The Hollywood Professional Association Announces HPA Creative Tech UK 2018
February 28, 2018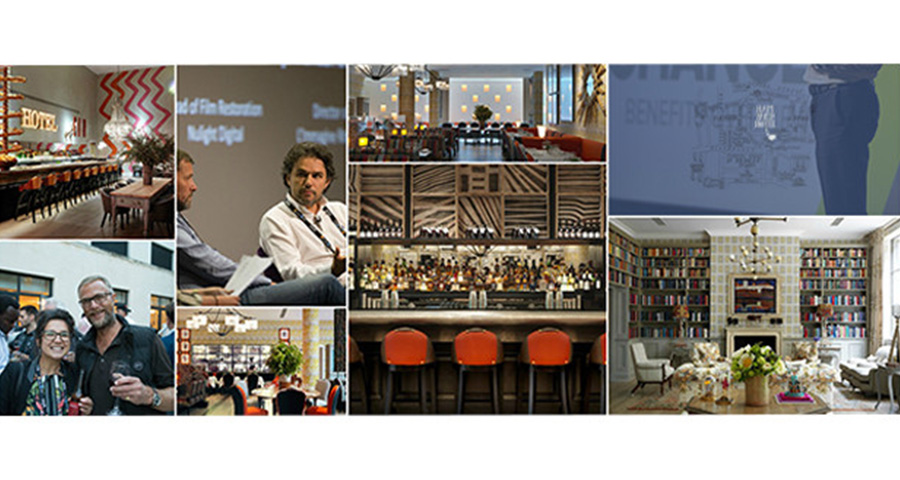 Content Creation Community Gathers for Intensive One-Day Conference in Central London
Burbank, Calif. (February 20, 2018) ­­–– Building upon the foundation of the HPA Tech Retreat in the U.K. and the U.S., the Hollywood Professional Association (HPA) has announced HPA Creative Tech UK 2018, presented by SMPTE Ltd., a one-day, intensive symposium featuring panels, technology, and networking. HPA Creative Tech UK 2018 will take place on 27 June at the Ham Yard Hotel in the heart of London's Soho district.
In unveiling the preliminary program, Richard Welsh, co-chair of the event and SMPTE education vice president, noted: "This program touches on topics that are of utmost importance to the creative and technical communities. From cybersecurity to production tools, to the perspective of the creatives, the day will present the latest essential information and exchange in a wonderful venue with content creation industry leaders. The program was built to embrace serious and informative discussion on the timeliest topics and concerns facing our industry. And, for the first time, we have incorporated 'live' demo sessions including on-set systems, hacking, and more."
Program
A first look at the program was announced today. A keynote speaker and additional program information are expected shortly.
How Hacks Work Live event!
Freakyclown (FC) and Jessica Barker – Redacted FirmSome of the last few year's most high profile hacks have involved media and entertainment giants. Despite best efforts of broadcasters and studios to ensure the highest levels of security, breaches continue to occur often with reputation damaging and costly consequences.Renowned ethical hacker FC and socio-technical expert Barker will discuss and demonstrate the who, how and why of hacking. Live demonstrations of hacks will be interjected with discussions about how these hacks work, the human factors behind each attack and what we can do to mitigate against them. This talk demystifies cyber insecurity and tackles both the human and technical elements at play. Attendees will leave this talk with a greater awareness of how quick, simple and effective attacks can be and what they can do, from a technical and human perspective, to better defend their organization.
CES Update
Mark Harrison, managing director of DPP and SMPTE regional governor for the U.K. will bring insight and perspective to the latest innovations and products seen at the 2018 Consumer Electronics Show last month in Las Vegas, Nevada.
Remote on-set review: Live Demo
Chris Clarke – Cerberus Tech
Recent movies such as Solo – a Star Wars Story and Jurassic World 2 were able to leverage live broadcast video over IP to enable their second unit shoots to be relayed in real-time to the director back at base on the main set––at a higher quality than the main on-set monitoring. The ability to securely stream video from anywhere to anywhere over IP has transformed this part of the production process, enabling unprecedented collaboration and creative control. Learn how the team at Cerberus is architecting and enabling this new creative workflow, and see a live demo direct from the camera on-set to the HPA screen.
The Future of Everything – AI
As discussion and consideration of Artificial Intelligence become dominate, Creative Tech UK will present leading thinkers on aspects of AI, ultimately helping to develop an understanding of its future, and how that future impacts industry and society.
Innovation Zone
As at HPA Tech Retreats in both the US and UK, the Innovation Zone be a key part of the event. This year at HPA Creative Tech UK a carefully curated collection of important technologies, products, and developments will be presented. Space is limited, and submissions will be carefully considered to support true innovations. For information, visit https://hpaonline.com.
Networking Opportunities
Between morning coffee, catered lunch, breaks, and a cocktail reception, HPA Creative Tech UK offers a number of opportunities for connection and conversation.
HPA President Seth Hallen commented, "For the past two years, our U.K. event has drawn an inspiring complement of industry thinkers to Oxfordshire for a few days of intense engagement. We have chosen to modify the format to accommodate the part of our audience and speakers who work in Soho. Under Richard's leadership, the committee has put together a compelling lineup in a central and outstanding venue that will foster intense discussion, creative exchange, and focused networking over the course of a single day. We are looking forward to the HPA Creative Tech UK in its new London venue."
Registration for HPA Creative Tech UK 2018 is now open. To register for the event, visit www.hpaonline.com. For sponsorship information, email Joyce Cataldo at sponsorships@hpaonline.com.
###
About the HPA Tech Retreat and HPA Creative Tech UK, presented by SMPTE Ltd.
The HPA Tech Retreat® is a gathering of the top industry engineering, technical, and creative talent, as well as strategic business leaders, focused on technology, from all aspects of digital cinema, post production, film, television, video, broadcast and related technology areas, for the exchange of information. The HPA Tech Retreat takes place annually in Palm Springs, California, and the 2018 HPA Creative Tech UK, presented by SMPTE Ltd., will take place in London, UK.
About the Hollywood Professional Association
Hollywood Professional Association (HPA) serves the professional community of businesses and individuals who provide expertise, support, tools and the infrastructure for the creation and finishing of motion pictures, television, commercials, digital media and other dynamic media content. Through their partnership with the Society of Motion Picture and Television Engineers®(SMPTE®), the leader in the advancement of the art, science, and craft of the image, sound, and metadata ecosystem, the HPA continues to extend its support of the community it represents. Information about the HPA is available at https://hpaonline.com.
About the Society of Motion Picture and Television Engineers® (SMPTE®)
For more than a century, the people of the Society of Motion Pictures and Television Engineers (SMPTE, pronounced "simp-tee") have sorted out the details of many significant advances in media and entertainment technology, from the introduction of "talkies" and color television to HD and UHD (4K, 8K) TV. Since its founding in 1916, the Society has received an Oscar® and multiple Emmy® Awards for its work in advancing moving-imagery engineering across the industry. SMPTE has developed thousands of standards, recommended practices, and engineering guidelines, more than 800 of which are currently in force today. SMPTE Time Code™ and the ubiquitous SMPTE Color Bars™ are just two examples of the Society's notable work. Now in its second century, the Society is shaping the next generation of standards and providing education for the industry to ensure interoperability as the industry evolves further into IT- and IP-based workflows.
SMPTE's global membership today includes more than 7,000 members: motion-imaging executives, creatives, technologists, researchers, and students who volunteer their time and expertise to the Society's standards development and educational initiatives. A partnership with the Hollywood Professional Association (HPA) connects SMPTE and its membership with the businesses and individuals who support the creation and finishing of media content. Information on joining SMPTE is available at www.smpte.org/join. 
All trademarks appearing herein are the properties of their respective owners.
Media Contact:
ignite strategic communications
christine purse | kate eberle
+1 818 980 3473 | chris mobile: +1 323 806 9696
chris@ignite.bz| kate@ignite.bz
[link_button href="https://hpaonline.com/wp-content/uploads/2018/02/HPA-Unveils-CTech-2018.pdf" size="medium" style="style3″ target="_blank"]Download PDF Version[/link_button]