HPA Looks to the Future with Young Entertainment Professionals
September 29, 2020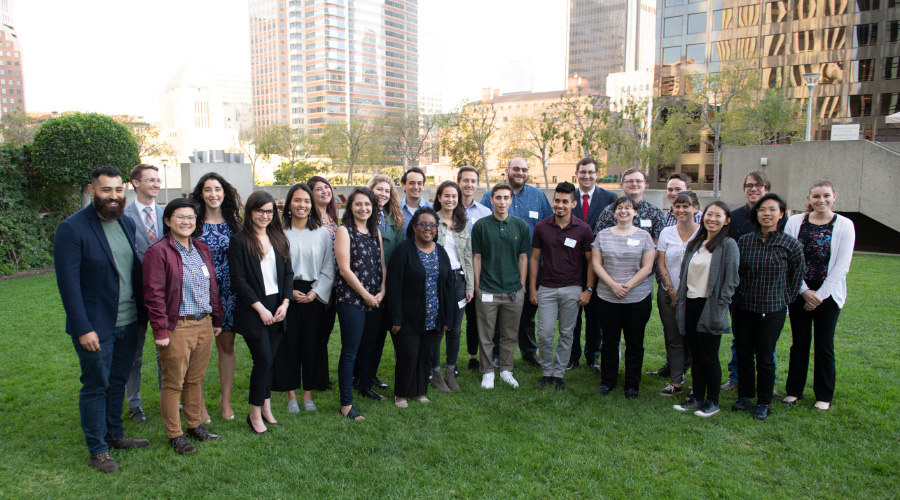 by Debra Kaufman
Since its founding in 2002, HPA has provided invaluable resources to its members and has grown to encompass the larger Hollywood production and post community. The iconic HPA Tech Retreat has been a star event, drawing upwards of 700 professionals from around the world to a conference that combines education, innovation and networking in a collegial environment. In 2008, HPA founded its Sales Career Resource Group (SCRG), aimed at sales and marketing professionals as a forum of support, resources and educational luncheons, which gracefully transformed into Networking Education and Technology (NET) providing in person events (which will return post-COVID), and education and connection with webinars, podcasts and other content.
Early on, HPA took a look at its membership and saw a  need to support and encourage under-represented groups. In 2013, Women in Post was created to provide leadership and visibility opportunities for women working in the post production industry, and has since become a strong community for mentoring, networking, learning and sharing information and ideas. HPA board member Kari Grubin recalls the founding of WIP. "I went to a lot of HPA events for years and kept having conversations with women at those events," she says. "Loren Nielsen and I talked about creating something for women – and that's how Women in Post was founded."
An initial group of about 25 women discussed the parameters and goals of WIP. "We wanted to make a space where women had a supportive environment to ask the questions they needed to ask," says Grubin. "Where women could network and share ideas and be examples to one another." WIP launched as round table lunches during the HPA Tech Retreat, which became the organization's central event. Over the years, WIP, in collaboration with SMPTE, began hosting the Women in Technology lunch at SMPTE. "We had some amazing programs at those events, and speakers like Academy of Motion Picture Arts and Sciences president Cheryl Boone Isaacs," says Grubin, who also notes that the group has held successful summer get-togethers over lunch, and a great evening event sponsored by Netflix.
COVID-19 became an unexpected and fortuitous opportunity for WIP. "Suddenly, with our programming moving online, it allowed us to open up to a much greater area than Southern California," says Grubin. "Now we touch audiences worldwide and give access to anyone who hasn't had the chance to see this programming." Since then, WIP has since had some dynamic programs with Universal Pictures vice president of creative technologies Annie Chang and Vubiquity chief executive Darcy Antonellis, moderated by Nielsen. In the meantime, the group has grown dramatically, from the original 25 to a LinkedIn membership of 825.
By 2014, the HPA board began to look seriously at the issue of inclusion and diversity for the next generation of Hollywood professionals. HPA's Young Entertainment Professionals (YEP) was incubated through the WIP committee. "It took a lot of brainstorming and ideation," says Grubin. The committee came up with so many good ideas that evolved into a day-long program during the SMPTE Annual Technical Conference. "Then we realized it could be a full year program, and we added mentorship in the first-year program." And, she and the WIP committee members began approaching HPA members about becoming mentors.
The first year was an indication of the success to come. To date, YEP has held four classes, each with 20 to 35 mentees, for a total of over 100 young professionals completing the program. In the first year's program, Jesse Korosi (currently Director of Post at SIM) and Jennifer Zeidan (currently Netflix Senior Media Systems Engineer) took a leadership role and were honored as Emerging Leader awards. Since then, said Grubin, YEP has seen many program graduates grow in their careers. "Many of them have gone on to amazing jobs," she says.  The applicants have shown an impressive array of talent and experience.  Mark Chiolis' NET Critical Conversations recently took a look at the YEP program, viewable here.
Over the course of these YEP classes, the program has evolved, based on experiences and feedback. "We've iterated year-over-year," says Grubin. One important fact emerged. "We learned along the way that we needed to get to know the young professionals first as people in order to create effective mentor pairing," she says. As a result, this year's YEP will take place in two parts. "They'll spend the first four or five months getting immersed in HPA," Grubin explains. "They'll go through an orientation, and their first major event will be the HPA Tech Retreat, which will most likely be virtual." After each young professional participates in a set number of programs, he or she will be evaluated and paired with the right mentor. "The idea is to build up their confidence and help them to develop appropriate networking and relationship skills," she says. "It's as much about soft skills with people as it is about professional skills."
Most recently, says Grubin, the rise of the #MeToo and Black Lives Matter movements highlighted the need for groups to be more inclusive. "There became this overarching idea that HPA should be about all kinds of equality, diversity and inclusion," she says. A good first start, she says, is for HPA members to get involved as mentors. Grubin had the time to become so deeply involved with HPA when her children no longer needed her to spend time with everything from Girl Scouts to the PTA. She encourages any HPA member who might have open time in their schedules to think about doing the same. To start the process, go here: https://hpaonline.com/form/volunteer/