HPA Tech Retreat Innovation Zone 2022
NFTs, Virtual Production, Photogrammetry and More
By Debra Kaufman
December 17, 2021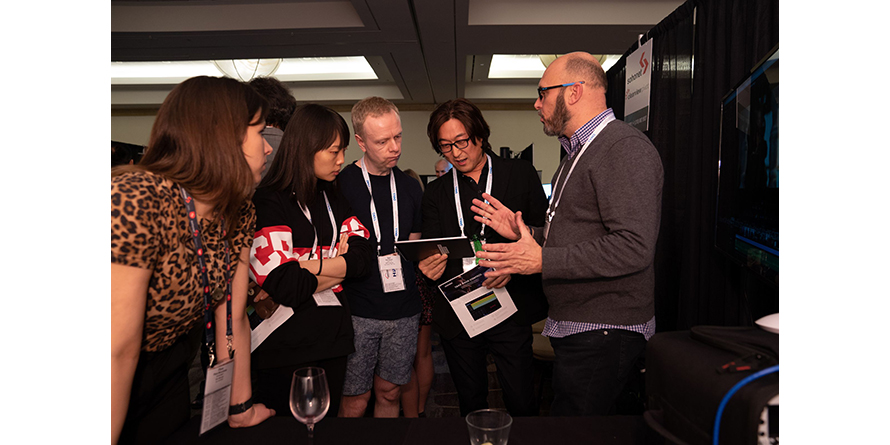 At the 2022 HPA Tech Retreat, the Innovation Zone will be curated by James Blevins, who for the last three years has co-chaired the HPA NET committee. "I was asked to take what I bring to the NET lunches to help find more of the innovation crowd," he said. In his role programming events for NET, Blevins has had a chance to bring a wide variety of innovators to speak to HPA members, and he plans to bring some of them to show their technology in the Innovation Zone. Blevins, who recently served as a post-production supervisor on "The Mandalorian," has also worked with a wide range of innovators through his work at Lucasfilm, Netflix and The Walt Disney Company.
The Tech Retreat Innovation Zone typically features about 50 companies, which have been vetted by the organizers. This year is more competitive than ever, in part due to the pandemic. "With the closure of in-person conferences, a lot of companies haven't had the chance for the kind of in-person exchanges that happen at the Tech Retreat," Blevins notes. "They're eager to get back together." In addition to touching base with veteran participants, he adds, they also look at Supersession participants who often are working with interesting new technologies.
"The Innovation Zone is a plugfest, a place to collaborate," says Blevins. He points out, for example, that three companies for the upcoming event have already indicated an interest in being placed in adjacent booths to show how their products work as a pipeline. "That's exactly what we want," he says. "Innovation is happening really fast. It's important to bring some of the companies spearheading these changes to the Tech Retreat. We need to make those connections and help each other get through the challenges ahead."
NFTs (non-fungible tokens), new virtual production and cloud tools and a new approach to photogrammetry are among the innovations that will be highlighted there; Blevins hints that we'll also see a surprising technology from another company that is taking a low profile until the Zone opens.
For those who wonder what NFTs are doing at a motion imaging conference, Blevins has the answer. "NFTs are a bit of an eyebrow-raiser," he admits. "Some people think of NFTs only as collectibles, but it is actually bringing in new storytellers. One interesting company is creating unique animated characters with NFTs. People are beginning to wrap an entire world with NFTs They start on the web and create stories that might become a game – or anything else that a story engenders. It branches out from the web to advertising, marketing and whatever else sticks."
He points out that virtual real estate is another nascent creative endeavor. "There are venues being recreated virtually such as the Hollywood Bowl, owned by the Hollywood Bowl," he says. "Now, it becomes entertainment when people can play at the Bowl in a virtual world and audiences can attend." He points to a variety of metaverses being created, some of them attached to brands. The Innovation Zone will include a company with a new approach to photogrammetry.
There will be familiar faces in the Zone as well. "There are some companies that are always there, as they evolve their services and offerings," he says. "They are healthy, vibrant companies that are still innovating." He points to the creation of new toolsets for the production/post in the cloud and virtual production. "This is the meat and potatoes of what we need now," he says. "Everyone has a lot of questions about these two burgeoning fields, and a lot of the answers aren't obvious. We'll see companies in the Innovation Zone showing tools that aggregate the processes of virtual production to work quickly and efficiently." Regarding the cloud, Blevins notes that people need not just tools but "the scale and support for those tools." "This is happening now," he said, pointing to Arch Platform Technologies, which was just honored with an HPA Engineering Excellence Award and will be part of the event's Supersession. "Arch is enabling and supporting people working globally and independently."
Even with the addition of strict COVID protocols for the entire event, the experience of attending the Innovation Zone will be much the same, with lots of chances to network and greet old friends. "I want new friends to be made, new relationships to be created," says Blevins. "I want ideas to form and new partnerships to form."
"There's also the conversations we haven't been able to hold because impulse isn't accommodated in a Zoom meeting," he adds. "I want all those impulses to come out so that by the time you leave the Innovation Zone, your brain is whirring and you're happy to be engaged."