November Means HPA Awards!
This year, they are more important than ever
September 30, 2020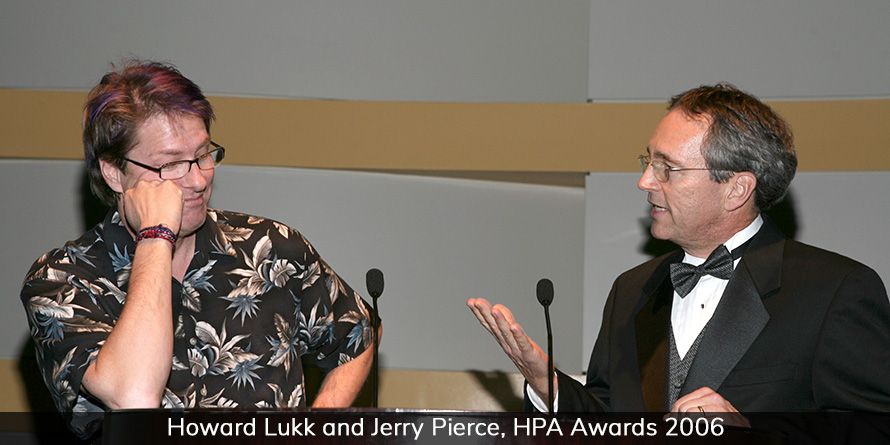 By Christine Purse, Chair, HPA Awards Committee
On February 15, 2006, in the lobby of the Pacific Theater's Digital Cinema Lab, then-HPA President Leon Silverman stepped up to the podium at the press conference and announced that HPA would be launching an awards show. Showing off the new logo against a backdrop of a movie palace that had transformed into a laboratory was an auspicious way for HPA to launch an awards event honoring talent and the many ways that technology was empowering creative vision.
HPA was not even 4 years old at this point. Awards founding chair Carolyn Giardina noted that the idea for the awards had begun in early 2004.  She and fellow HPA Board member Mark Chiolis were thinking back on the former Monitor Awards, and Mark said, "why don't we start an awards program?" Backed by the Board but needing a way to make the show a reality, the pair set off, and by February of 2005, they were rounding up sponsors and forming a committee to turn the idea into an event. The HPA Awards Committee started meeting and brainstorming. And, with that, the HPA Awards were off and running.
Our goals were straightforward: to foster awareness of postproduction and recognize the contributions of its talent. Cue the klieg lights, roll out the carpet and put up our hastily created step and repeat. HPA Awards #1 came to life on Nov 1, 2006.  The work of the committee, and especially  Carolyn, Mark and new committee member Seth Hallen, had paid off. While that first gala was nerve-wracking, it was also a success.  The seats were full, a program unfolded, presenters were on hand, and awards were given. The awards team and committee, the HPA Board, and HPA's small staff – Eileen Kramer and Max Ma – had brought this first show into existence. Over the years, the HPA staff has grown – hard to believe by so little –  and Alicia Rock has placed her invaluable mark on the show. To this day the Committee and the Board are fully committed to making an incredible event.
Fifteen years in, we continue to do what we set out to do – shine a spotlight on the artists and the technical ingenuity that drive the industry and showcase brilliance and innovation. The HPA Awards have honored 18 people with Lifetime Achievement honors or Charles S. Swartz Awards; the Legacy Award became a reality, we've launched the Judges Award for Creativity and Innovation, and we have continued the incredible tradition of Engineering Excellence. And, the HPA Awards creative categories will always be at the heart and center of the event.
As the year opened, we were looking forward to making our 15th anniversary show the biggest and best ever. But, then, other events happened and we knew that our plans would have to change as we all faced a serious, indeed, a deadly threat.
During this transformative time in our culture and industry, and with lots of conversation and introspection, the Committee and the Board were clear on one thing:  the role of the HPA is to honor, embrace, and encourage talent. This year, more than ever, we need to honor our industry and stay the course. That's why we need to throw this party. To encourage involvement in the show, we reduced entry fees, made admission free, modified submission deadlines. The HPA Awards will roll on.
We have set out to deliver an awards show that will be different, but amazing, encouraging, and full of pride for our friends and colleagues.  We encourage you to register (you'll be able to do that soon!). It's free. Put together a watch party, make a cocktail or fancy appetizer, put on your best outfit or your comfiest pj's, and tune in.
From the original HPA Awards committee to today's committee – Carolyn Giardina, David Hall, Seth Hallen, Anthony Magliocco, Dayna McCallum, Sarah McGrail, Linda Rosner, Leon Silverman and Joachim Zell – the committee is simply outstanding and it's an honor to work with them. Nothing could have happened without their participation as well as the endless, hard work and enthusiasm of the HPA team and the backing of the HPA Board of Directors. There are amazing people to work with, it's an outstanding show, and we are all excited for November 19!
Cheers to carrying on the HPA Awards! This one's for you.