15 Minutes with Wendy Aylsworth
December 22, 2022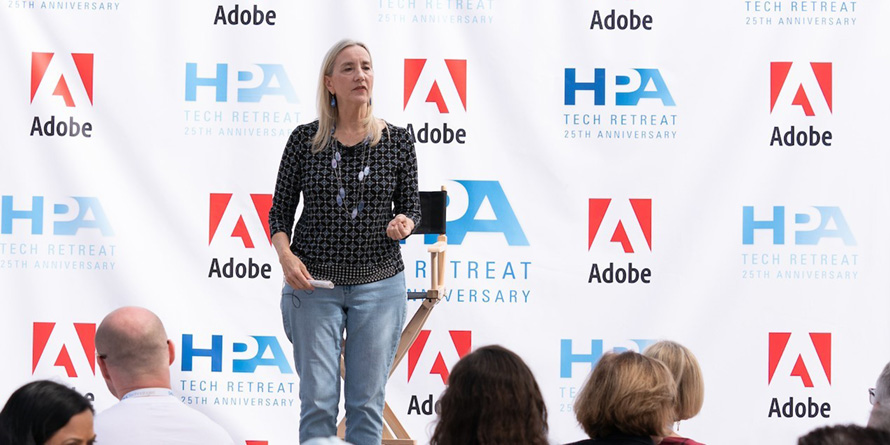 Wendy Aylsworth has spent over 30 years in entertainment technology, bringing emerging technologies into production and distribution usage. A Lifetime Fellow, former president, and former VP of Engineering (Standards) at SMPTE, where she continues to provide technical consulting and strategic board guidance; Governor of the Academy of Television Arts & Sciences; and, of course, board member at HPA, Wendy has her finger on the pulse of the industry and shares her thoughts with us as we head into the New Year.
Virtual Reality has a future
What would you single out as an immediate and longer term trend in technology to look out for?
"Even though Virtual Reality, by which I mean accessing virtual worlds by way of a fully immersive headset, has yet to achieve anything like mass adoption, I believe its potential in both consumer and production spheres holds great promise.
Substantive technical improvements will occur over the coming years that will creep into both consumer and industry use. Headgear will not only get cheaper, but screen resolutions will vastly improve, weight and comfort will be addressed in lighter wearable form factors and we're only at the foothills of where content experiences combined with sensory, haptic technology might take us.
The sea change sweeping production is that of volume stages where a director can play back any image desired on banks of LED screens and shoot live action in that environment. While it is early days with a lot of learning to do, this will be increasingly used by TV and movie shows to create content more rapidly and with more freedom than having to take cast and crew and kit out into live locations.
With the processing power of computers increasing at the rate they are, combined with rapid leaps in AI and machine learning, I see a point in time when all crew and the director and can wear VR headsets to view the performance of an actor with CGI mapped over it live. That's not possible today – there's still a delay between the data recorded of an actor wearing performance capture markers and having the visual effect of their CG character rendered in realtime. That means it's tricky today for a director to get the performance they want when they can't see it in realtime.
As long as there are people like James Cameron pushing this technology, it will change production possibilities radically. And as the headsets get better I think our children will be able to watch performances using these technologies.
I don't see a world in which the director can direct an avatar, however. You can always wrap an actor's performance in a different body and face, but we are long time away from having the ability to talk to an AI-avatar body and have it alter the performance based on vocal instruction alone."
Don't let DEI die
How would you rate the industry's efforts in actioning diversity, equity, and inclusion (DEI)?
"We have everybody's attention at this moment but we have to continue to keep diversity, equity, and inclusion at the top of our minds. Many organizations are pushing progress and leaders at all levels are far, far more conscious of the issue than they were even five years ago. It remains vitally important that, as a society, we continue to keep DEI at the forefront of our minds. It is no difference to gender or age bias or conflict of interest. DEI needs to become ingrained in company and society culture. It should be second nature. There should be red flags automatically raised when lines are crossed or opportunities not fulfilled.
For its part, the HPA is working very hard on DEI from the board down and will continue to look at how we can further progress the cause in all our programming and our events.
There has been noticeable progress on screen too with major feature film hits such as The Woman King, directed by Gina Prince-Bythewood and Black Panther: Wakanda Forever, directed by Ryan Coogler. For me personally, however, I still see the deficiencies when it comes to DEI in TV and movie programming as well as a clear a gap in the industry behind the scenes as well. We must all continue to do more."
Women can be Kings
In another era, The Woman King, about a real–life army of women in Africa fighting back against oppression, if made at all, would have been a stirring action spectacular likely directed by a man. Yet Gina Prince-Bythewood made it her mission to populate heads of department with female craft talent. Does this signal change?
"The Woman King is a heartening tale which should be justly applauded. I fear, though, that this remains an outlier and we should be careful of generalizing from this success that the fight is won. I've been campaigning for my whole career to get more women into the industry, particularly into the hard science and engineering side with which I have particular affinity.
I don't have a magic wand, nor do I think anybody else does. Yes, progress has been made but still no female DP has won the Academy Award for Best Cinematographer and women are outnumbered in roles from computer programmers to optical scientists. The video gaming industry, which is colliding with the film and TV industry at the intersection of Virtual Production, also has a heavily male-dominated skew.
So my message is don't give up. We should continue to talk to girls and students about the exciting possibilities of the industry and to strengthen development of programs that educate everyone about the importance of gender diversity. Not because that is the equitable thing to do but because we will all tell better stories with a multitude of voices to conjure with.
As with DEI, the ultimate goal is for diversity in all its forms to be so ingrained it is no longer part of the conversation. Today, though, it very much still is."