A Tour of Ted Lasso's Innovative Workflow with Supervising Producer Kip Kroeger
By Debra Kaufman
September 29, 2022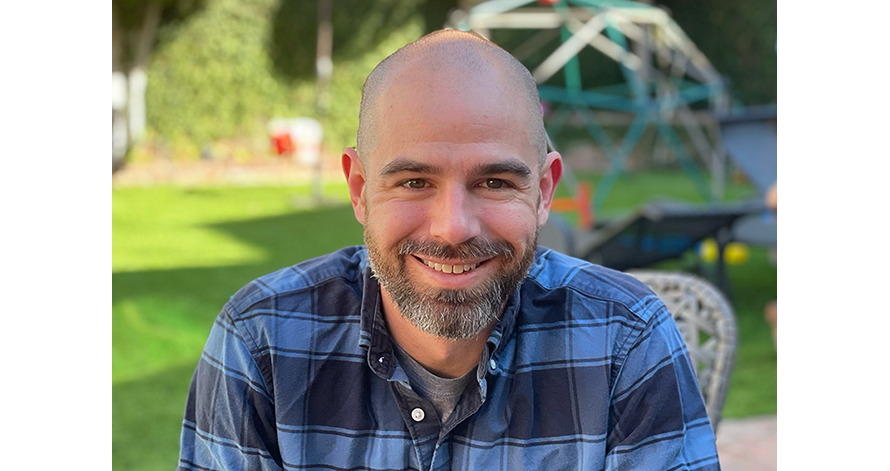 Apple TV+'s Ted Lasso was just awarded a second consecutive Emmy for Outstanding Comedy Series, as was its supervising producer Kip Kroeger. From the first episode, Kroeger was faced with a host of workflow challenges, organizing innovative solutions with service provider partners DigitalFilm Tree and Barnstorm VFX. HPA Newsline spoke with Kroeger about how his team was able to integrate up to 100 VFX per episode, create photoreal digital soccer stadiums and crowds and do it all on the budget of a half-hour comedy.
The first hint that Kroeger would need to pull out all the stops came when he read the scripts and realized just how much screen time was given to well-known U.K. stadiums and players on football fields (pitches). "We asked about shooting all the football (soccer) games," he recalls. "We wanted to know if they had the rights to shoot Crystal Palace [stadium]– they told us we couldn't. Then we said we wanted to shoot on the pitch (field) – and they laughed at us."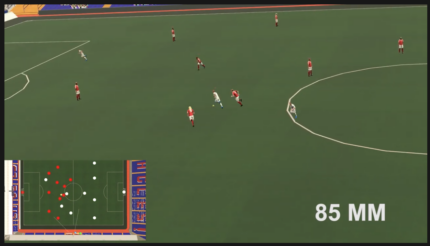 The football sequences were also scheduled to be shot last, which meant that Kroeger's team would somehow have to get production and studio executives to sign off on sequences that didn't exist. He knew he needed a plan and also that showrunner Bill Lawrence and DigitalFilm Tree – both of which he'd worked with since Scrubs – would have his back. "One of my favorite things about working with both of them is that there is no fear and no hesitation about diving in and making it up as we go."
DigitalFilm Tree CEO Ramy Katrib and COO Nancy Jundi had shown Kroeger and Hollenbeck their previsualization chops using the Unity game engine long before Ted Lasso. "At the time, Katelyn and I said, [the previz] was interesting but we had no idea what we would use it for," says Kroeger. "Now, a week away from sending a cut-out for Ted Lasso, we asked them, can you do sports action? And, oh, by the way, can we have it tomorrow?" The next morning, DFT delivered a template football stadium representing Crystal Palace and stock characters representing the players. "We gave DFT all the snippets from the script, and once they took a look at it, we talked them through the shots we needed," explains Kroeger. "We made sure eyelines and the nuances were covered."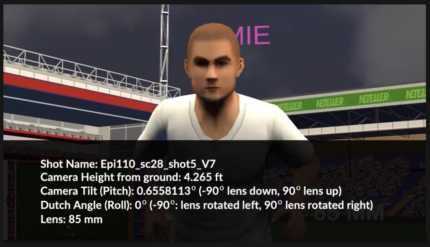 "The previz was hugely integral to the creative process for the first season in particular," says Kroeger. "Previz made it possible for the studio/network to visualize what was on the page – and it was also a roadmap for production." As previz evolved, the Unity game engine was replaced with Unreal, and the blocky soccer avatars were replaced first by Iron Man characters ("Iron Lasso") and, finally, by avatars that looked like real FIFA players. Kroeger and the director were able to go through the previz on Zoom meetings and work out any problems. "It was an ongoing process and when we got to actually shooting it, they were able to show the camera crew and the players what they were going to do," he says.
For visual effects, Kroeger called on another tried-and-true partner, Barnstorm VFX. "We're very selective with who we work with," says Kroeger. "DFT loves being a hub for this kind of innovative work and Barnstorm is cut from the same cloth." Among their creative work, Barnstorm used Lidar (light detection and ranging) to build the final CG stadiums. "There's also been a lot of dialogue and sharing between the facilities," says Kroeger. "Ramy calls it coop-etition. There is no territorial protectiveness."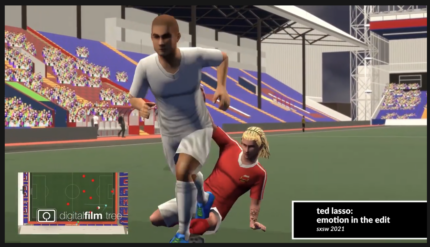 Another innovation aided the workflow. A year before Ted Lasso began, Kroeger was working in Prague on another show that used multiple VFX vendors. "We were trying to figure out how to juggle them, and Ramy told me they were working on cloud dailies," Kroeger says. "They would take all the dailies, put them in the cloud and all our vendors – VFX, online, color, marketing – would have access to them. I wouldn't have to lose hours of my day in pull sessions. We threw it all in the cloud and it worked like a charm."
Flash forward to setting up Ted Lasso in London. "We went straight out of the camera, plugged into a machine and DFT processed all our dailies. It simplified our entire workflow remarkably."
The ideas keep flowing in post production, says Kroeger, in large part because showrunner Lawrence and lead actor/co-creator Jason Sudeikis are "very collaborative." "Bill is a wizard with editing – he's finding new jokes and moments you didn't know were there," he says. "They were always encouraging, collaborative and fun. Everyone wants to bring their A game and surprise people. For me, it's selfishly exciting to keep working with these people who are always firing on all cylinders. And there's a lot of gratitude on the show – we all recognize that we're dealing with something a little rare. And Jason remembers everything that happens on set, so we are able to get every look, reaction, and suggestion that makes it all feel so special."