Backlight Supports Howard University Film Organization's Student Filmmakers with Donation and Software
April 27, 2023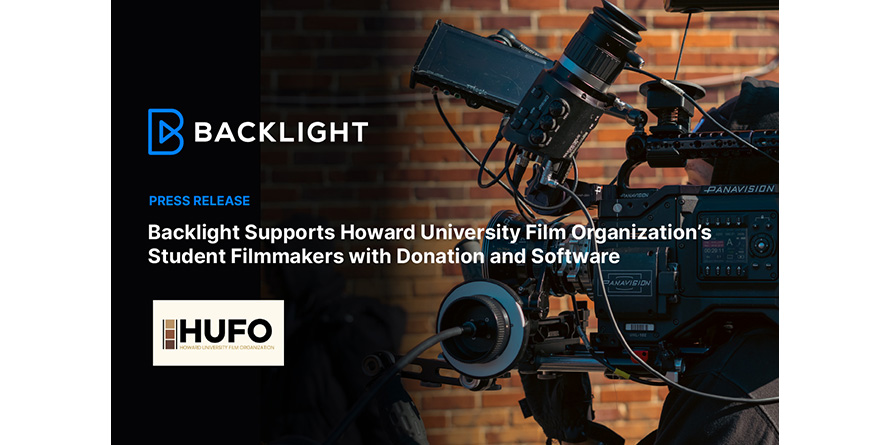 Media and entertainment technology company, Backlight, announced its collaboration with the Howard University Film Organization (HUFO), a student-led film organization at Howard University, a renowned HBCU. HUFO aims to foster an environment where stories by young Black creatives can thrive. In addition to a monetary contribution, Backlight gifted its award-winning software for pre and post video production—Celtx, ftrack Studio, cineSync and iconik—to the student filmmakers for use in the development of their annual short film series.
"We are thrilled for this partnership with Backlight," said Rachel K. McCain, HUFO's director of operations. "Their software has allowed us to fully bring our vision to life. It is so encouraging to have Backlight's support as we work to create space for young Black creatives within the film industry."
Backlight's sponsorship of HUFO gives student filmmakers access to professional film production software to assist throughout all stages of production, including with scriptwriting, pipeline, media asset management, remote collaboration, review and editing. The HUFO team used solutions from Backlight Creative to manage organizational and creative processes across teams.
"Backlight is honored to partner with HUFO and to support the next generation of filmmakers and film technologists at Howard University," said Ben Kaplan, CEO of Backlight. "Film can educate and inspire, making it a powerful medium for historically marginalized voices to own their narratives and share them widely. We are thrilled that HUFO students are using Backlight's award-winning solutions to help produce their films, tell their stories and gain exposure to state-of-the-art tools and technology."
HUFO's thematic genre this year is "Afrosurrealism," a literary and cultural aesthetic that reflects the lived experience of Black people. The collective short film series is called Where's Everybody At? and explores the warped, whimsical, and unnerving aspects of what it means to be a young Black person in America.The project unites Howard University undergraduate and graduate students in cohorts spanning the production process both in front-of and behind the camera.
The Where's Everybody At? series is composed of three short stories in the Afrosurreal genre:
Where's Everybody At?: A Black HBCU student wakes up one day to find that all other humans have been erased from the planet except for…white people.
Permanence: Nino wants to get a tattoo to impress his crush, but when he meets a mysterious tattoo artist who can show him the fates of the clients who were tattooed before him, he must finally make a choice about what he really wants.
Sitting Ducks: At a school facing increasing bomb threats, students throw a "bomb" party to distract themselves from the gravity of the situation.
"We developed this project because we wanted to create a space for the stories we want to see. Black creatives like Jordan Peele and Donald Glover have opened the door for Afrosurreal stories to exist within film and television," said Lauryn Johnson, HUFO president. "Where's Everybody At? allows us to explore this genre while also showcasing the immense creative talent at Howard University."