Behind the Edit of Russian Doll: Five Questions with Todd Downing, ACE
After a successful premiere season, the HPA Award nominated editor takes us on a ride with Season 2.
June 30, 2022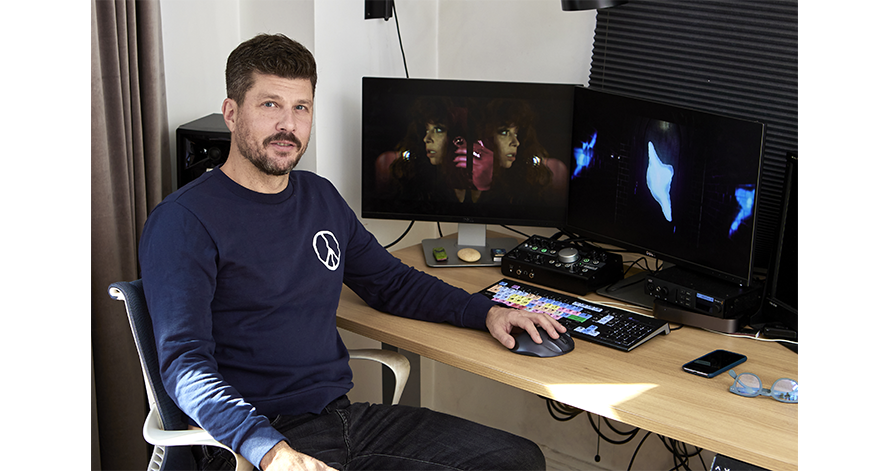 Todd Downing, ACE, whose credits include Difficult People, Frontline, Generation, Younger, SMILF, and Mrs. America, has been nominated for three BAFTAS, an HPA Award, an ACE Eddie and has earned two Royal Television Society awards.
Downing's HPA Award nomination was for the first season of Russian Doll. He returned to the Emmy-award winning series for its second season, working closely with the show's creative powerhouse and star Natasha Lyonne. In season 1, audiences were introduced to the New York City-based world of lead character Nadia Vulvakov (Lyonne), who, in a plot full of twisty turns, dies repeatedly on her birthday. In season 2, she doesn't die, but she does travel back in time, inhabiting the body of someone very close to her.
In addition to being recognized by HPA, Downing's work in season 1 garnered an ACE Eddie nomination.
Q: Season 2 is more about figuring out life than dying, right?
A: Yes, it's 'Now that I've stopped dying, how do I start living?' I remember joking – 'more is more' for this show. And even though we start season 2 with connections into the world of season 1, such as using some of the old score, Natasha wanted to take a new direction. For me, it was throwing everything up in the air and starting new.
Q: How do you approach bringing that vision to life?
A: The story had to work on multiple levels with Natasha's comedic quips and improvisations as well as on a sci-fi level as well as a drama about family trauma – it was a balancing act. It's a bit like David Lynch and Twin Peaks. The similarity is about ripping apart the layers to go deeper into the characters. It was a dive deep into the psyche and subconscious.
Q: Russian Doll season 2 dives into the past and Nadia's history. How is this part of the story, and how do you bring that element to life?
A: As Nadia leaps haphazardly into the past, she's connecting the dots between her own sense of dislocation, her mother's mental health problems, and her Hungarian grandmother's experience of the Holocaust. The ultimate goal was to marry the surreal and the emotional, seeing how far we could push the craziness while keeping the viewer engaged with the characters and abstract story. We gave the audience occasional glimpses of Chloe Sevigny, playing Nadia's mother, simply to remind people that every other character in that scene is seeing Nadia's mother, not Nadia.
Perhaps the hardest scene to cut was the first time that we see Nadia and her mother inhabit the same frame. This is through a bathroom mirror and shot using the familiar trick of a mirror cut out and reversed sets on either side. And no matter how much you rehearse, it is very tricky to match movements and facial expressions and it took a really long time. I applied some speed ramps and fluid morphs to get them a bit tighter before handing it over to our Break+Enter VFX supervisor Gabriel Regentin who applied some sheen on the mirror and fixed small hand movements so they would match up.
Q: You've worked with Natasha Lyonne for two seasons now. What is your collaboration like? You're a co-producer this season, right?
A: Natasha loves being in the edit room. It's not 'go away and do these notes,' her involvement is real. Alex Buono (the executive producer who directed the other four episodes) was also very involved in the edit. There was a lot of back and forth, adjusting performances, adding a joke here, or taking something out there. This show required face to face, in person interaction and I just don't think we could have done it remotely. It was important for us to work together in person. I did my editor's cut at home in New York, and then after they wrapped, I flew to LA to work in person with Natasha and Alex at Animal Pictures in Studio City. I want to give credit to our assistant editors Sara Schultz and Corry Seeholzer, who helped prep and transfer media.
I was surprised and happy about the title of co-producer. We were fine cutting, and someone sent me the end credits and I saw my name. I immediately I said thanks, and Natasha said, "I meant to ask you, is that ok?" Needless to say, I responded with an "Of course!" This series is exactly what I always wanted to make.
Q: Music plays a key role in the show and fuels the creative process. You're known to have a savvy perspective on music.
A. I love that part of the job. It helped that we worked with music supervisor Birenne Rose and composer Joe Wong for both seasons. Natasha is extremely into music. To prep for the show, she gave me an 18-hour Spotify playlist, for example. We did experiment with a lot of music, not always perfectly, but we did get there. None of that is "pat," and that's the joy of a project like this one and of working with Natasha.
Season 2 of Russian Doll is currently streaming on Netflix.
HPA Awards submissions for creative categories are open now. LEARN MORE.