Editor Ali Greer on 2022's Bountiful Harvest
January 26, 2023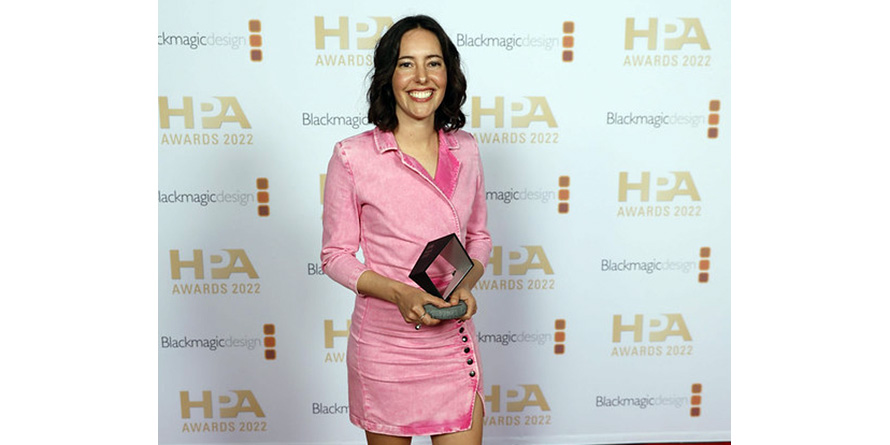 By Christine Bunish
Most of us strive to achieve balance in our professional and personal lives, and Ali Greer appears to have succeeded balancing her "inside" work as an Emmy and HPA Award-winning editor with her "outside" work as an urban farmer in Los Angeles.
Greer has followed paths in both visual arts and nature throughout her life.  She grew up in Minnesota where her father ran an advertising agency and her mother was a photographer and "everyone was taking pictures."  She graduated from the University of Colorado Boulder where she studied "film and skiing" and worked as a ski bum for a year before moving to Portland, Oregon.  There, she joined an ad agency where she directed and edited commercials, began urban farming then got a chance to work on "Portlandia."  She served as an assistant editor on the series for a year before becoming its editor for four years and co-directing an episode in its final season.
"I've always been interested in all parts of a story, and what was special about 'Portlandia' was that they kind of allowed me to go wild," says Greer.  "I could do what I wanted to find the most fun, creative and interesting way to tell the story."
"Portlandia" brought Greer to Los Angeles where she fell into editing other comedy shows, racking up credits for "Dream Corp LLC," "Black Monday," "Schmigadoon!" and HBO Max's "Hacks," the latter earning her 2021 Emmy and HPA nominations.  "Editing comedy is the most fun job you could ever imagine having," she says.
Lately, though, her work has taken a darker turn with Bill Hader's hitman-turned-actor "Barry" for HBO and a new Amazon limited series debuting in March.  Greer won Emmy and HPA Awards last year for cutting the "Barry" season finale, "Starting Now."
"The challenge with 'Barry' is to really focus on the story and sometimes cut out a joke if it's not moving the story forward," she explains.  "It's been a very cool experience – always interesting to see where to fit in jokes in such a dramatic show."
It's also been a blast working with Hader, whom Greer watched on "Saturday Night Live!" when she was growing up.  "Bill writes, directs and produces the show.  We do an editor's cut then he comes in and sits with us.  We work super closely together – he'll even call on weekends with ideas.  It's very fun and collaborative and really a pretty streamlined process."
Greer hopes to keep exploring creative opportunities that grow out of her editing career.  She enjoyed being part of the writing process in the writers' room of "Dream Corp LLC" and directed some reshoots for the upcoming Amazon series.  "I'm able to understand a lot of different pieces of the puzzle then piece it together in the edit – that keeps things interesting," she says.
Greer edited "Portlandia" on Final Cut Pro and some movies and shows in Adobe Premiere but now works primarily on Avid and After Effects.  "Technology is always progressing and changing, so the important thing is not to be afraid of it and fight it but to keep your tools sharp.  Figure out the new software updates early in the season so you know their quirks and how to work around them."
Greer values HPA's role in cultivating community and recognizing creative work.  "I was honored to win the Outstanding Editing award for 'Barry' and really appreciate that acknowledgement of my work," she says.  "I'm pretty community focused and think the HPA is a great way to bring everyone in this business together."
Community plays a big part in Greer's work outside the edit suite.  She and her husband, Eric Tomassini, run Avenue 33 Farm in the Lincoln Heights neighborhood of LA, an example of what a production farm looks like in the city.
"I've been urban farming since college, so I've been interested in growing food for 15 years now," Greer says.  "It's an amazing way to learn about the food system and climate and eat really well!"  It's currently root vegetable and leafy greens season on the farm. "Though what I do sitting at the computer is entertaining and interesting, it's important to remember that nature exists far beyond our focus on media," she says.
During the pandemic Greer and Tomassini provided farm boxes for customers; now they sell wholesale and distribute produce to the neighborhood.  Given climate trends, future plans call for devoting part of their farm to land that doesn't need to be irrigated.  "As our climate moves more from Mediterranean to desert, we're looking at how other countries adapt to that situation," she explains.
Greer's career as a visual storyteller may just merge with her career as an urban farmer someday.  "Urban farming would make a great narrative," she muses.  "I'd love to find a way to incorporate it with my 'inside' job.  It would be a dream come true!"