HPA Announces Tech Retreat Supersession Details: Going Beyond the Hype
A veritable who's who including walls from AOTO, Planar and Sony
January 24, 2022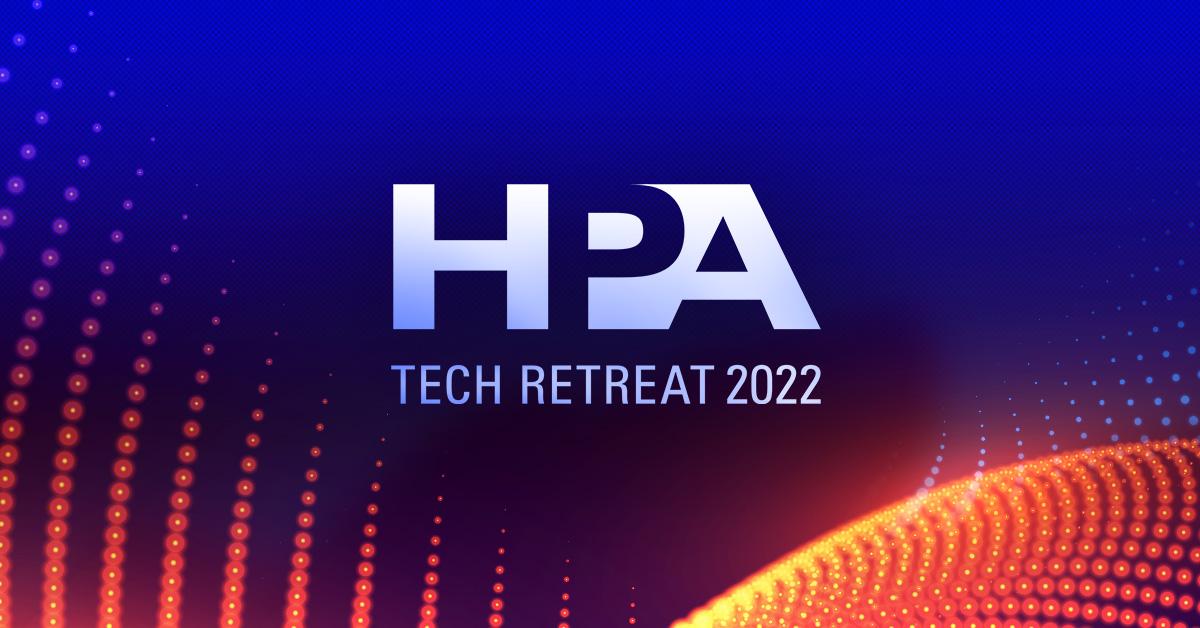 The Hollywood Professional Association (HPA) has announced further details for the much-anticipated 2022 HPA Tech Retreat Supersession, this year focusing on virtual production. The Supersession will take place in person on Tuesday, February 22 during the four-day Tech Retreat. Programmed this year by respected industry experts Kari Grubin and Erik Weaver, the Supersession boasts an impressive lineup of speakers, demonstrations, and case studies from leaders in the adaptation and evolution of virtual production and in camera VFX. The program presents an unusual opportunity to see what happens when the major technology innovators and manufacturers collaborate in real time. Speakers are still being added and further updates will be available at hpaonline.com.
LED walls for the Supersession will be provided by AOTO, Planar, and Sony; case study participants also include Disguise, Epic, Unity, Brompton, Sony, ARRI, Mo-Sys Engineering, OptiTrack, Silverdraft, ICVR, RED Digital Cinema, and others. Attendees will be able to compare combinations of technologies at work in three different volumes and learn from experts who have direct experience with a variety of products and processes.
Grubin, an HPA Board member who is currently spearheading the SMPTE Rapid Industry Solutions initiative, notes, "Clearly, virtual production is one of the most talked about developments of the past few years, impacting our industry in countless ways. What we aim to accomplish during the Supersession is a multi-disciplinary, non-commercial, immersive dive into what VP is, what the costs and benefits may be, and what it means to all of us.  We are delighted that the most important companies in the space are going to be on hand with virtual production tools and volumes."
The Supersession will offer attendees a well-rounded, hands-on, unbiased look at the state of VP as it stands for productions of every size, speaking to participants who run the gamut of production roles. Additional announcements of keynotes and speakers will be forthcoming as the program continues to evolve. For the latest information visit hpaonline.com.
Virtual Production:  Beyond the Hype
Kari Grubin, Erik Weaver
A stage setting outline of what attendees can expect in the day ahead.
Introduction to the VAD and Final Pixel
Felix Jorge (Happy Mushroom), Ben Baker (FatHead) & Dane Smith (Third Floor)
Diving into building worlds from concept to creation, previs to final pixel.
AI Assisted Artistry Using an Example Based Workflow
Brian Gaffney and Ron Martin, Unity
A comparative exploration of the procedural and machine learning artistry using AI and the argument for a scan-based workflow.
Who Owns the Image? Viewpoints and Insight from Directors, Cinematographers, and Key Creatives
c.Craig Paterson, Director; Craig Kief, ASC, Cinematographer; Felix Jorge, Happy Mushroom
With the move to digital and virtual productions, this age-old question has become more complicated.  HPA has assembled industry-leading creative team members to share opinions, experiences, and guidance for the future on this ever-changing topic.
Demo: The Future of Synthetic Beings in Digital Entertainment
Tom Thudiyanplackal, Producer, Virtual Production (Fathead), ETC@USC
What is possible with synthetic beings? Explore how the boundaries of what is possible, from 3D scans to marker-less tracking, digital clothing, and more, are being pushed.
Case Study: Alter Ego
Michael Zinman, Lulu; Brad Rochon, Pixotope
Go behind the scenes of Alter Ego, a singing competition like no other featuring avatars performing for celebrity judges.
Optimizing dvLED Performance for Virtual Production in Any Camera Usage
Noted imaging expert Gary Feather
A display used for virtual production or xR is referred to as dvLED, direct view LED display. The system design and performance of the selected dv LED display can enhance or hinder the utility for your production, with controller as an essential element. Considerations of optical, electrical, display and physical characteristics will be discussed.
On-Set and the VP Techs: So, You Want an Image?
Greg Ciaccio, Chair, ASC Workflow Committee, Motion Technology Council
Engineering complexities of the Volume. LEDs/Panels, system playback, color space, and lighting are just a few engineering challenges we face in virtual production.
The Final Sample: The Challenges of Sound
Eric Rigney, Virtual Production Producer and Researcher
Putting it All Together: FatHead
c.Craig Paterson, Director and Writer
After a day of seeing and exploring all the parts, the screening and final case study shows how it comes together.
The New World Ahead:  The Industry Perspective
A meeting of industry minds: where is virtual production today and where is it going?
Erik Weaver, who brings extensive experience in virtual production and demonstrative events to this effort, notes, "In previous years the Supersession has looked at the process starting at the point of shoot through post and final. Now we're examining the creative process through shooting onstage – upstream of where we've focused in the past. Virtual production demands structure and discipline in the real world, and that means planning and preparation and execution. We'll be taking attendees through what steps are required and why, and we'll put that preparation into action on three setups onstage so they can see how each works through demonstrations."
The 2022 HPA Tech Retreat will take place February 21-24 at the Westin Mission Hills Golf Resort & Spa in the Palm Springs area. In addition to the previously announced TR-X and main program sessions, Tech Retreat attendees will enjoy roundtable discussions of a wide range of important topics guided by industry experts, a reimagined Innovation Zone offering first looks at cutting edge technologies, and top tier networking throughout the week. The schedule for the entire event is available at hpaonline.com and will be updated regularly.
Seth Hallen, President of HPA, commented on the event and the plans. "Fluency in virtual production is indispensable knowledge in 2022, whether you are working on a shoestring or a tentpole budget. The HPA Tech Retreat is the most important place to access critical information, and this year's Supersession offers attendees an efficient, engaging, and most of all informative opportunity to lay the groundwork for understanding and working within one of the most important topics of our industry right now. Kari and Erik have created an incredible day, and I look forward to being part of it."
HPA Tech Retreat Health and Safety Protocols
Bringing the Tech Retreat back live to Palm Springs was a carefully considered decision. In compliance with governmental guidelines and with guidance from a leading Covid Compliance company, stringent, proper protocols are in place. HPA is pleased to be able to safely provide an unforgettable Tech Retreat experience in person once again. The greater Palm Springs vaccination rate has been consistently among the top in the state, with Rancho Mirage reporting 94% of residents vaccinated as of the end of 2021.
Additional health and safety measures in place at the 2022 HPA Tech Retreat include:
Proof of full vaccination is required for all participants
Proof of negative molecular (RT-PCR, RT-LAMP, NEAR) test within 72 hours OR negative antigen test within 48 hours required prior to arrival
Venue will create a "Safe Zone" for all Tech Retreat attendees, no outside guests will be permitted
Separate outdoor hotel check-in and registration for Tech Retreat attendees only
KN95/N95 (no cloth) masks are required at all times indoors when not actively eating or drinking
Outdoor sessions, meals, and breaks when possible
State of the art HVAC with MERV 13 filtration
Continuous fresh air circulated into all event and conference space
Covid Compliance Officers on site
Electrostatic sanitizing of conference and event spaces, nightly
Complimentary COVID testing kits available to attendees
Hand sanitizing stations throughout venue
HPA continues to monitor the COVID situation and public health recommendations closely. With guidance from IHP, protocols will be adjusted on an as-needed basis to reflect the most up-to-date thinking. Any health-related questions or concerns should be directed to HPA at hpa@hpaonline.com. To view the HPA event policy, please click here.
Registration is open for the 2022 HPA Tech Retreat and is expected to sell out. The Tech Retreat takes place thanks to the generosity of diamond title sponsor Adobe; platinum sponsors AMD, Equinix, and Grass Valley; after party sponsor Ateliere; connectivity sponsor Sohonet; gold sponsors Blackmagic Design, Mo-Sys Engineering, Ross Video, and Wasabi; silver sponsors HammerSpace, Key Code Media, Puget Systems, and Spectra Logic; event sponsors Dell Technologies, SDVI, and Signiant; bronze sponsor ZEISS; and star sponsor Avid. For information on sponsoring the 2022 HPA Tech Retreat, please contact Joyce Cataldo at jcataldo@hpaonline.com. For more information about the HPA Tech Retreat, visit www.hpatechretreat.com.