HPA NET Event Explores Trends in AI with Industry Experts
May 25, 2023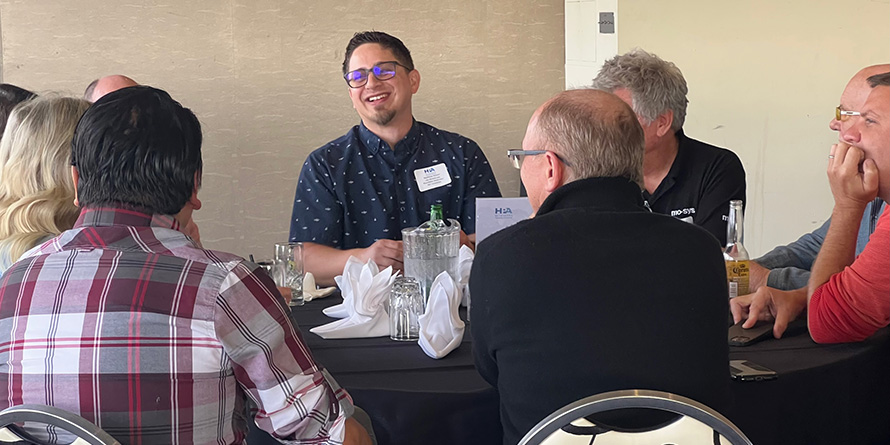 By Debra Kaufman
Is ChatGPT taking over Hollywood? AI inroads into M&E was the focus of discussion at HPA NET's May 2 gathering at the Universal Sheraton. Subject matter experts helmed ten roundtables, posing provocative questions and keeping the sold-out crowd buzzing into the evening.
Although these tools have been part of the industry for the past several years, 2022's spectacular breakthroughs, including DALL-E, which creates pictures from language prompts and ChatGPT, a natural language processing tool, made this the perfect time to explore the topic. All the major tech companies – think Amazon, Google, Facebook, Microsoft – are deeply invested in pushing AI forward. Evidence of that is a recent research report, published by Microsoft, that reported that its new AI system was showing signs of "artificial general intelligence" (AGI) which, says The New York Times, "is shorthand for a machine that can do anything the human brain can do."
In Hollywood, artificial intelligence has inserted itself into nearly every workflow. Results have largely been laudatory, but also sparked fears of job loss and other potential negative impacts. Witness the writers' strike, in part motivated by the concern that ChatGPT-like AI tools will replace writers. That was the focus of the table led by showrunner Jack Dolgen and director C. Craig Patterson, who addressed "why AI writing will always need the human touch."
Actors have also been impacted by AI for some time. In the mid-2000s AI tools were used to de-age actors, and later to create fully digital versions of deceased actors, such as Star Wars' Carrie Fisher and Fast & Furious star Paul Walker.  Now, actors, musicians and other performers are routinely scanned (sometimes at the behest of the studios producing franchises they star in) for future use – an asset that can be legally inherited by their heirs. Tom Hanks recently told "The Adam Buxton Podcast" on BBC that he'll be able to act forever, as a combination of AI and deepfake technology. I hosted a table to discuss the issues that arise with both synthetic actors and deepfakes.
Artificial intelligence, in combination with other technologies such as CGI, has already had an impact on pre-production with previsualization and remote location scouting and casting. Like Minded Labs Director of Solutions Matt Herson, who led the table "Pixel Pioneers: Unleashing the Future of Pre-Viz with AI-Driven Workflow," explored the implications of these technological developments.
On the set, virtual production has been boosted by generative AI. In Virtual Producer, journalist Noah Kadner reports on Cuebric, which debuted in January this year with production company XR Studios, and now brings generative AI technology to filmmakers and creatives.
Visual effects, post production and distribution also have plenty of complicated and labor-intensive processes that are already benefiting from AI, a trend that is only likely to expand over time. Three HPA NET tables focused discussion on these topics: Light Iron workflow manager Justin Potter on AI in DI, Colourlab color scientist/CEO/founder Dado Valentic on finishing, and Evercast chief strategy officer JP Castel on AI's impact on metadata collection.
AI tools also offer solutions for decision-making, such as Cinelytic, in use at Warner Bros. Studios, Sony Pictures, Ingenious Media, Productivity Media and STX Entertainment. Fox Entertainment director of post production and technology Payton List hosted a roundtable on "The Pros and Cons of AI: a Studio Perspective" and Entertainment Technology Center (ETC) program director Yves Bergquist led a discussion on how to insert generative AI into creative organizations.
In addition to Cinelytic, other AI startups offering decision-making tools to Hollywood executives include ScriptBook, which predicts a movie's success by analyzing its script; Vault, which predicts which demographics will watch films by tracking how trailers are received online; and Pilot, offering box office forecasts up to 18 months before films launch.
How real are all these claims? Will movies be made entirely by algorithms? Will people lose jobs if these tools are implemented, gain new ones focused on managing AI, or both? HPA NET will continue to host conversations exploring these questions and concerns and others as the role of AI in the industry continues to evolve.