HPA Tech Retreat 2024 Opens Call for Proposals for Main Program and Breakfast Roundtables
Revered Event Will Offer a Sunday Start and Increased Offerings
August 1, 2023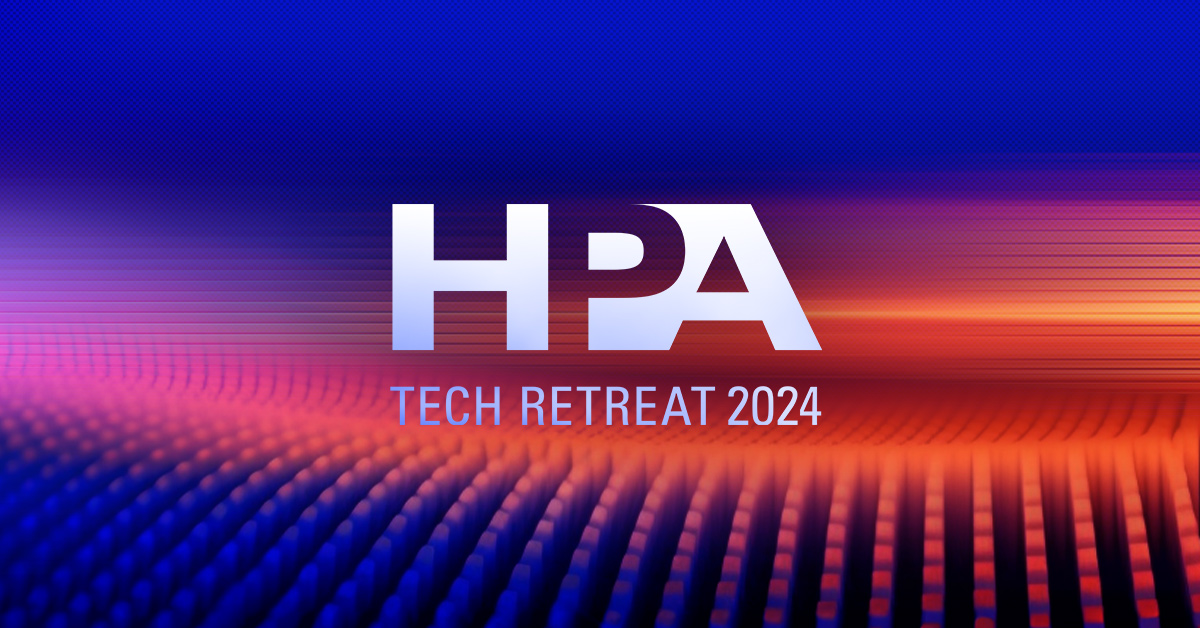 The Hollywood Professional Association (HPA) has issued a call for proposals for the main program and breakfast roundtables for the 2024 HPA Tech Retreat. The popular event, which draws an engaged crowd from the entertainment technology community, will take place February 18-22 at the Westin Rancho Mirage Golf Resort & Spa outside of Palm Springs. The call for submissions will close on October 13.
The Tech Retreat Main Program, curated by Mark Schubin, is renowned for sparking insight and discovery through its culture of inquiry and collaborative conversation. Participants enjoy timely and topical presentations by working experts whose insights are delivered with unusual candor in the intimate Tech Retreat context, which is underscored by its no-marketing presentation rule. The program, and the conversations that follow, are recognized as determining the industry's agenda for the year ahead.
While the Tech Retreat has always been a true retreat that demands full participation from attendees, the 2024 event will further enhance its immersive nature; the entire resort is booked for Tech Retreat attendees. This year, the week begins on Sunday with a variety of social activities and welcome drinks for conference attendees. Monday will kick off with a networking brunch, the opening of the Innovation Zone and the ever-popular TR-X program. As in the past, Tuesday brings the Supersession, and the Main Program will take place Wednesday and Thursday. Breakfast roundtables, networking events and expanded hours for the Innovation Zone will complement the daily sessions, as well as enriched lounge spaces.
The HPA Tech Retreat attracts a dazzling spectrum of distinguished participants, both attendees and speakers, and engages leaders from a wide and deep range of perspectives to inform the conversation.
Call for Proposals: Main Program
Main program presentations are strictly reserved for marketing-free content and can focus on anything within far reaching topics affecting the media tech industry and content creation. The informal proposals can be as short as a few words in length, but must be submitted by the would-be presenter to proposals@hpaonline.com. Typically, main program presentations are half an hour in duration, including setup and Q&A. Time limits are strictly enforced. Decisions on the program are expected in November.
Schubin has noted that proposals from those new to the event and members of underrepresented groups are encouraged, and their perspectives greatly valued. Anything from a newly discovered obscure system setting to quantum entanglement for zero latency collaboration is worthy of submission.
Call for Proposals: Breakfast Roundtables
Unlike the main program presentations, breakfast roundtables are allowed to include marketing information. They take place Tuesday, Wednesday, and Thursday mornings of the event.
Breakfast roundtables are popular and always fill quickly.  They are available on a first-come, first-served basis, with no vetting process. Proposals must be submitted directly by their proposed table moderators. Once the maximum number of tables is reached, no more will be accepted. All breakfast roundtable moderators must be registered for the Retreat and there is no Retreat registration discount conveyed by moderating a breakfast roundtable. Proposals should be submitted to proposals@hpaonline.com.
Seth Hallen, President of HPA, said, "Surviving and thriving in this industry depends on sharing what we know. It's more than collegial; it's mandatory. The Tech Retreat fuels the best version of knowledge sharing; talking to people who operate in our world and share similar concerns, yet bring unique perspectives that foster the kinds of surprises that launch us in promising new directions and enable us to crack the toughest problems. The Main Program is crucial to starting these conversations, and each attendee brings unique professional wisdom that could be invaluable to someone else in the room. I urge you to consider putting together a proposal for a presentation or a panel discussion. The industry needs you now more than ever."
The HPA Tech Retreat perennially sells out, with HPA members granted access to early registration. It is anticipated that the attendance and presentation slots for 2024 will fill particularly quickly. Early registration and proposal submission are highly encouraged.
The HPA Tech Retreat takes place with the generous support of our sponsors, including Diamond Sponsor, Adobe. For more information about the 2024 HPA Tech Retreat, including special package offers, sponsor ship opportunities and general information, visit http://www.hpaonline.com.