Lifetime Achievement Award Goes to Darcy Antonellis
October 28, 2021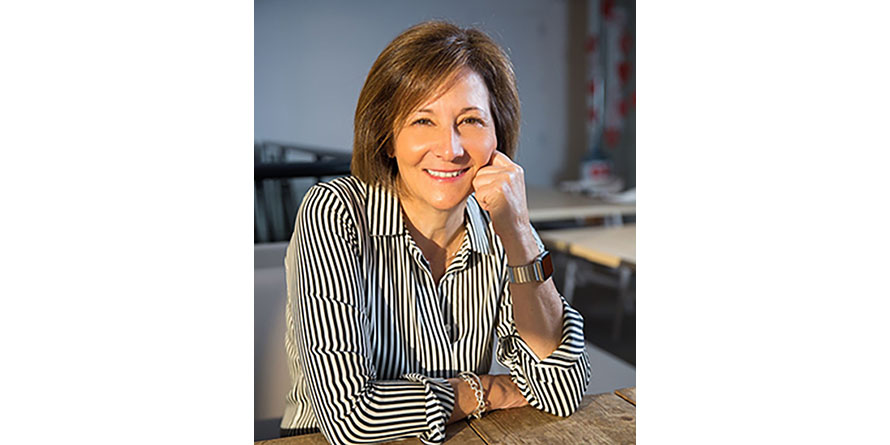 By Debra Kaufman
At the HPA Awards, Darcy Antonellis will be honored with a Lifetime Achievement Award, adding to her already impressive list of honors. She was the inaugural recipient of NAB TVNewsCheck Women in Technology Leadership Award, Cablefax's Most Innovative People in Multiscreen and Most Powerful Women in Cable as well as Broadcasting and Cable's Technology Leadership Award, The Hollywood Reporter's Digital Power 50 List, Home Media Magazine's Digital Drivers and Multi-Channel's 2018 Class of Wonder Women.
Antonellis most recently served as chief executive officer of Vubiquity, a global provider of premium content services and technical solutions, a job she accepted after serving as president and chief technology officer at Warner Bros. "In 2013, the opportunity to step into the CEO role for Vubiquity presented itself," she recalls describing that transition. "Warner Bros. was an amazing place to be; it was a complex decision though the path was a natural progression working with the team for a media solutions and services company like Vubiquity." In the months ahead, Vubiquity acquired specific OTT capabilities, closed on global media relationship deals and took the company to the cloud as part of a significant services expansion.
At the time Vubiquity distributed content to a few dozen countries and languages; today that number has tripled and in several dozen languages. "The talented Vubiquity team enables and helps its customers create engaging content-centric user experiences," says Antonellis. "We've expanded the remit of the company and gone from heavily licensing-only to one of platform enablement and managed services focus. In 2018, the company was acquired by Amdocs Inc. In August, she stepped down as chief executive but took on the role of advisor to focus on strategic and growth-related opportunities within Amdocs.
Prior to her stint at Vubiquity, at Warner Bros. Antonellis became the first female CTO across the studio entertainment world. Although she doesn't focus on that aspect of her tenure there, she did allow that, "at the end of the day a diversity of perspective and experiences in a room will generate the best results and that's what I've tried to focus on." She emphasized more that her position gave her organization "the unique opportunity to work across all lines of the media and entertainment business."
Antonellis' first introduction to the M&E industry was from her father whose career was in television production systems sales; as a young person she joined him at several NAB shows. At Temple University, she initially studied journalism but realized the sciences and technology were her calling and entered the engineering department as one of a handful of women there at the time. After receiving her degree, she joined the CBS Network in New York, followed by a position as head of operations and engineering for FOX's station in Washington DC then back to CBS which included leading operations and engineering at the CBS News bureau in DC, Network operations and Olympic operations and engineering for CBS Sports in Nagano, Japan.
When Warner Bros. approached her, it was another turning point in Antonellis' career. "I had just come back from Nagano and Chris Cookson, who had left CBS for Warner Bros. prior, was looking for someone to oversee the transformation of distribution in the digital arena," she recalls. In parallel in the early 2000s, the music industry had been ravaged by the new digital distribution realities which enabled global piracy. "To address the threat, we created a multi-pronged approach and, learning from the music industry, realized pure enforcement wasn't the answer," she says. "Our digital evolution helped us find ways to compete, to level the playing field, create premium products and, more importantly, premium experiences for fans."
The move to Los Angeles to accept the Warner Bros. job impacted Antonellis in other ways. "It was an entirely new landscape for me within media," she says. "I was stepping from News, Sports and Reality TV at the Network to the business of Theatrical, TV episodic production and distribution as well as Home Entertainment. I had the opportunity to be steeped in the art and the craft of content creation, storytelling and fan consumption."
In addition to her advisory role within Amdocs, Antonellis serves on the Boards of Cinemark and Xperi. She is a member of the Academy of Motion Picture Arts and Sciences, a SMPTE Fellow, a three-time Emmy recipient in the areas of technical production and engineering and holder of several patents in the areas of digital distribution, video and audio manipulation. A Division I tennis player in college, she's served as a member of the WTA Global Advisory Council to provide insights into media and technology to benefit women's professional tennis. Some of her philanthropic work includes being the Los Angeles chair for the American Heart Association's Go Red for Women, launching the organization's first STEM Goes Red initiative to encourage and mentor high school girls to embrace the areas of science and technology as academic paths. She also served on the Board of Kidsave, a non-profit adoption advocacy organization.
Looking forward in the media industry, she points out that COVID-19 highlighted the appetite for content. "In the next three to five years, we will continue to see cross-industry transformation and continued consumer behavior changes with some likely continued consolidation," she predicts. "It's a fantastic time to be on the technology and innovation side of our business – whether on the production, distribution or commerce fronts. Humans are highly visual and with it as a core means of how we engage with one another, one thing that hasn't changed is that people love great stories and highly produced content."