Total Immersion in Virtual Production at the HPA Tech Retreat Supersession
November 18, 2021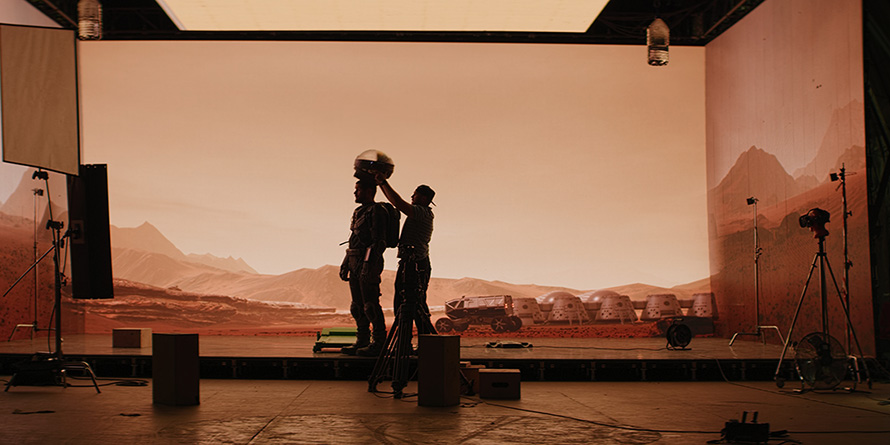 Demand for virtual production is soaring across feature film, TV and advertising but with the technology still at the cutting edge, there are huge gaps in the industry's knowledge about how to use it effectively.
The Supersession at HPA Tech Retreat 2022 aims to set the record straight. The centerpiece to the four-day event February 21-24 will be the industry's comprehensive guide to the essentials of virtual production giving attendees a fundamental grounding in the practicalities of everything from language, to tech provisioning and budgeting while highlighting crucial gaps in skillsets and in vendor interoperability. The Supersession is set for February 22.
"Virtual production is rapidly changing almost every facet of filmmaking but it is still an emerging suite of technologies with huge potential and lots of pitfalls," says Kari Grubin, experienced post production executive and HPA board member. "The Supersession at the HPA Tech Retreat will bring a real honest conversation around the nuts and bolts of VP so that delegates can leave armed with accurate information and guidance from experts and hands on scenarios, and the fact is that these tools can be available across a variety of budgets and productions, not just giant studio projects."
The knowledge gap is as fundamental as understanding what Virtual Production actually is. To many people VP means The Mandalorian, the ILM and Disney posterchild for filming a VFX-driven episodic show inside of an LED volume. Yet this is just one style of one aspect of the tools and techniques governing the interaction of physical with digital worlds which spans the gamut of content creation from pre- to post.
"Over the last twenty years we've all gotten used to the idea of fixing things in post but Virtual Production upends this," says Erik Weaver, Director of Virtual & Adaptive Production – Entertainment Technology Center @ USC who is co-curating the Supersession with Grubin. "On a virtual production, schedules for films are pre-loaded with more pre-production time and a less extensive post period. Many seasoned filmmakers aren't accustomed to the idea of making every decision in terms of effects imagery before production occurs and may find the process counterintuitive. Successful Virtual Production requires a renewed focus on filmmaking disciplines otherwise there is a real risk of the whole project spiraling out of control."
Different types of LED walls or wall systems can be configured differently for each show. Other variations include using monitors or projection mapping. The screens themselves vary in luminance and pixel pitch with factors including camera-to-screen distance, focal length, focus plane, sensor size, and content resolution determining the quality of the footage.
Virtual Production tools and processes extend beyond the stage environment. Applications range from previz and remote scouting to character creation based on performance capture.  Assets such as models, characters, 3D environments must be completely camera-ready before production starts.
"From games engines to tracking data there are many interlocking parts to VP which can create cascading problems if one element is misjudged or overlooked," says Weaver. "For example, the idea that the LED screens themselves can illuminate the actors and set is broadly true but masks a maze of complications and decisions that the cinematographer and gaffer have to master."
There are new roles for Virtual Production which will be outlined at the Supersession. These include the Virtual Art Department (VAD) where all elements including digital models and physical props are designed and created and Virtual Production Supervisor who acts as the liaison between the physical production team, the Art Department, the VFX team, and the 'brain bar' (ILM's term for its Volume Control Team).
"There is a new lexicon for creating in Virtual Production which organizations including SMPTE, EBU, VES, Siggraph, MovieLabs and more are all playing a vital role in developing," Grubin says. "It's clearly important for the sake of production efficiency that we all speak the same language. The same holds true for systems interoperability where we will be pushing the online virtual production ecosystem to do more work in this area."
The Supersession will not be a dry discussion in which delegates are talked at by PowerPoint. On the contrary, the day will be an experiential exploration of Virtual Production from soup to nuts including a chance for attendees to see how tools like camera tracking systems interact with a Volume. And, because it is live, there is the high likelihood of things going wrong providing an invaluable opportunity to learn at ground level how to avoid mistakes from the get-go.
"We want to expose the technology and showcase all the different ways it can be used and customized as well as pointing out where mistakes can be made," says Weaver. "The goal for the industry should be to educate everyone in production to acquire baseline skills in computing, real-time technology and VFX to make Virtual Production methods as creative and as cost effective as they can be."
One key misconception is that VP is some sort of silver bullet and that the goal is always to produce pixel-perfect final shots on set eliminating post altogether. Not even The Mandalorian captured more than half of its final shots in-camera.
"Production starts as it always has, from the script," says Grubin. "That is the back to basics approach we will take at the Supersession. We are going to break a script down and ask what type of virtual production tools and workflow might be applicable and whether certain parts of the production are best produced on location or using conventional studio sets.
"Through live demos, real world case studies and interactive discussion with the top experts in the field, the goal of the Supersession at HPA Tech Retreat 2022 is to give everyone a sound structure for understanding and working with all the exciting and fast-moving set of tools and practices under the umbrella of Virtual Production."