Wendy Aylsworth Speaks at HPA Tech Retreat WIP Lunch
February 27, 2020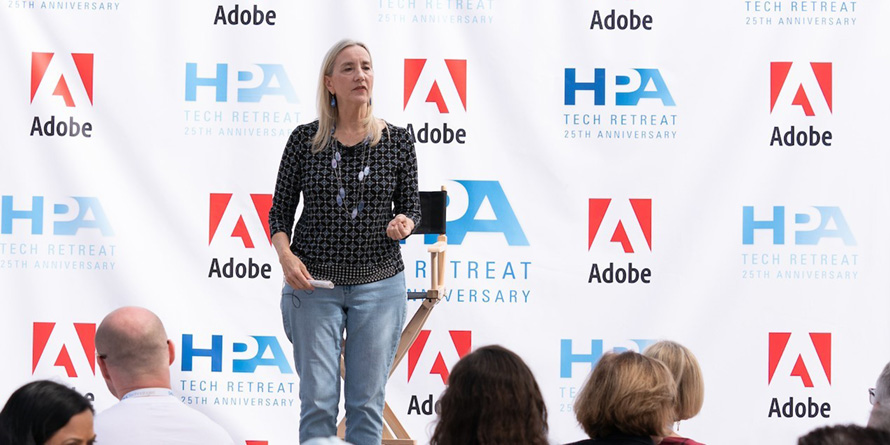 By Debra Kaufman
At the annual Women in Post luncheon on Thursday, February 25 at the HPA Tech Retreat, industry veteran Wendy Aylsworth spoke about how she made her way to the top ranks of motion picture studios – a field dominated by men – and what she learned along the way. Currently president of the UltraViolet Digital Entertainment Content Ecosystem (DECE) and industry consultant, Aylsworth spent 21 years at the Warner Bros. Entertainment Group, ending as senior vice president of technology. Before that, she was director of engineering at the Walt Disney Company, where she spent five years. She also has a long list of publications, awards and membership in many industry boards.
Aylsworth's first love was music but she opted for a more practical route in university: engineering. There, she took a test for aptitude and personality traits, and came up in the 60 to 70th percentile in all the aptitudes but 98th percentile in all the personality traits. "So I thought, I'm not good at anything, but I'm good at doing it," she said, and put that test away. After graduation, her first job was software engineer at Lockheed, where she was the first female engineer her group had hired. There, she discovered a strength: that she could communicate well with the customer and contractors. "I could mentally run through tests and programs and help them figure out what was wrong with the code," she recalls. "Then, as a manager, I recognized that my success was dependent on my people success."
She soon hit gender bias that started to impact her ability to move up in management. Around that time, she also had an opportunity to move into another industry – entertainment – which she deemed a wise move since her husband was in the same volatile aerospace industry. But the gender bias followed her there when she signed an employment contract she later found paid her less than one of her employees. "They gave me a raise just above that person," she says. Not long after, she discovered her predecessor in her role was making 30 percent more than what she was making. Lesson learned: don't sign a personal employment contract, especially without consulting an attorney.
At her next job – to design the animation production workflow for Warner Bros.' new feature animation division – Aylsworth agreed to come on board, but would not sign a personal employment contract. "Taking this position, I realized I would have to talk to very high levels in the organization and as a female engineer, I've already experienced bias," she said. "I decided that first impressions mean a great deal, and I wanted to come across as an intelligent, capable tech manager." She cut her hair short, donned conservative suits – and, surprisingly, it worked. "As I gained the rapport and trust of the people at this company, I grew my hair out," she noted. She loved the work environment there. "It was open and collaborative," she said. "When they gave me a contract, I got an attorney and they gave me good compensation – it felt fair." Then in her early 40s, she had what she called a "life-changing epiphany." "I had always relied on my parents, teachers, bosses to provide direction," she said. "It suddenly dawned on me that these people aren't necessarily smarter or wiser than me – they each have their area of expertise. I shouldn't be looking at them for the answers. I'm as much a leader as they are."
This realization, she said, caused her to change her behavior dramatically. Instead of remaining quiet in meetings, she "suddenly realized that in every meeting, if I had expertise that could inform people in the room about a risk or an opportunity – then I should provide that information, whether asked to or not." "That turned out to be very freeing for me," she said. "I became more confident, not intimidated. I was careful to speak up when I thought I had a piece of knowledge that other people in the room didn't. I think that caused many senior executives to value me, and that's what allowed me to move into the ranks of vice president, corporate strategies and emerging technologies." Then Warner Bros. chief technology officer Chris Cookson brought her into emerging technologies that, she said, ultimately turned out to be her favorite job. "Every project required pulling together disparate people and guiding the group to come to a conclusion and communicating that information within the company," she said. "At some point, I realized that stupid college assessment test was right."
Aylsworth left attendees with a few more nuggets:
Self-realization takes an entire lifetime. "It takes years to see patterns. Self-awareness is fun and helps inform you what you'll do next.
Always check in to see if you're happy at what you do. It's amazing how you can hunker down if you're not happy. If you're not happy, change it up.
Don't rely on others to reward you. You have to be your own advocate and researcher to help yourself create the rewards.
Don't rely on others for the answers. Make sure you make decisions and speak up to help move the world to a better place.