2019 HPA Award Winner Natasha Leonnet
July 27, 2020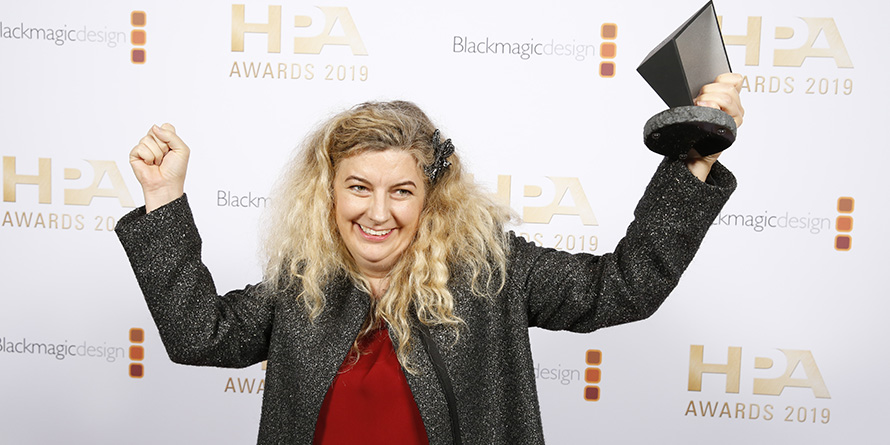 By Debra Kaufman
At the 2019 HPA Awards, eight-time nominee in the category of Outstanding Color Grading for a Theatrical Feature and EFILM digital intermediate artist Natasha Leonnet was honored for her work on Spider-Man: Into the Spider-Verse. (She was also nominated that year for another theatrical feature, First Man.) "I was thrilled to be nominated," she recalls. "And when I won, I was so surprised! And it was pretty amazing to have cinematographer Polly Morgan, ASC present me with the award, since we had just finished working together on Lucy in the Sky. It was a really magical evening and my award is in a prominent place in the living room."
Leonnet notes that, as far as she knows, the HPA Award is the only one to acknowledge DI artists. "Our work is supposed to be invisible," she explains. "VFX is also supposed to integrate seamlessly but they create worlds that don't exist. With the DI, it's almost the opposite. We're supposed to integrate properly and also be invisible." That's what makes the HPA Award given to colorists for theatrical feature, television and commercials so special, she says.
Because Spider-Man: Into the Spider-Verse is an animated feature, it was less likely to attract attention for its DI than a live-action one. "But this was a heavily color graded film," Leonnet says. "The creatives really used color grading to continue to tell their story, so it meant a lot to all of us that it was recognized for color grading." She worked closely with directors Bob Perischetti, Peter Ramsey and Rodney Rothman; production designer Justin K. Thompson and art director Dean Gordon. Also frequently in the DI suite were writer/producer Phil Lord and VFX supervisor Danny Dimian.
Leonnet first did her own research into looks. "It helps me," she says. "It gives me a lens to try to understand the work." She focused on the printing process for comic books, studying the work of Andy Warhol and Roy Lichtenstein. "The creatives tried to communicate the imperfections of the printing process, which I found magical," she says. Leonnet gives an example of how the creatives used color to tell the story. "The 'day in the life of Miles' sequence, you see him trying to get through his day at school," she says. "They decided to use the DI to express how overwhelming his school day was and made every shot a different color to create a frenetic feeling." "They wanted it to feel like a live action film, so they used the DI as they would in live action, not just for color continuity – which is one of the ways that animated films use it — but to communicate and support the story," she continues. "And I think they succeeded. They were a really inspiring team – everybody's voice in the room was important. There seemed to be an understanding that the magic of the film was due to the multiplicity of voices."
Leonnet has worked on a number of high-profile theatrical films, most recently completing Walt Disney's live-action Mulan. "This was a dream project," she says. "The director Nick Caro and cinematographer Mandy Walker, ASC both have such an incredible eye for color and really used it to tell their story. A change in time or place, for example, is supported through color. They're very articulate about color as well and, on top of it, many of the images are breathtaking." She's also done every single film from Disney's Blue Sky Films, which she calls "a blessing." Other credits include La La Land (2016), First Man (2018), Hidden Figures (2016), Whiplash (2014), Labor Day (2013), Love & Other Drugs (2010), Get Low (2009), Defiance (2008) and Juno (2007).
When asked what innate qualities makes for a great DI artist, Leonnet responds that everyone has a different strength. "I have good color acuity and it does help to have a sensitivity for the interaction of color," she says. "But to be a good DI artist, I do think that it does help if you have a passion for filmmaking and storytelling. Having a background in the fine arts can help in terms of knowing how to strengthen an image using your tools."
"We're always an extension of the DP," she adds. "But it's also about understanding the production designer's role, the costume designer's role and how you make sure that everything is working like a symphony to tell that story. When you can make the creatives feel supported, it's a good feeling."
In fact, the compliment Leonnet received that she treasures the most came from Morgan, when they were working together on Lucy in the Sky. "I always asked her what the mood was and what we were trying to convey in terms of what the character is feeling," she says. "And she said, You're a storyteller with color."