A Conversation with Karol Urban, President of the Cinema Audio Society
By Christine Bunish
July 28, 2022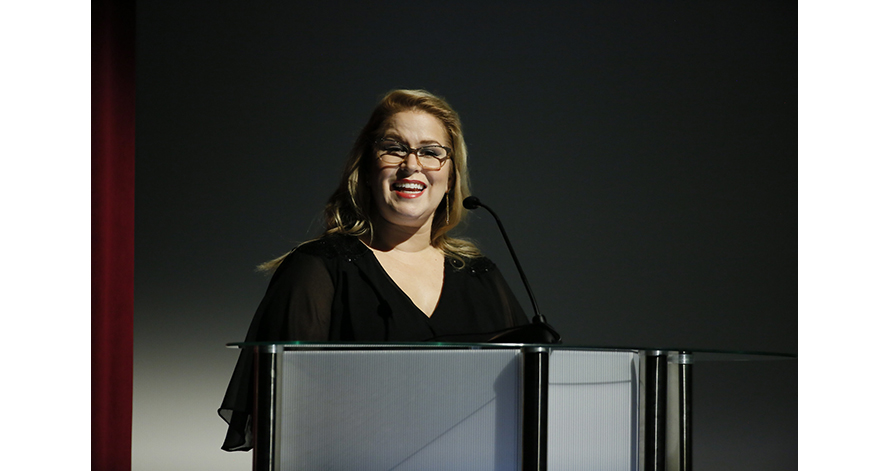 As the current President of the Cinema Audio Society (CAS), re-recording mixer Karol Urban, CAS MPSE, presides over an organization revitalized in the wake of the coronavirus pandemic. "CAS has been very active in 2022," she reports. The 58th CAS Awards returned in March as an in-person event, and plans are underway for the 59th CAS Awards celebration with applications being accepted for the Student Recognition Award.
"We are also actively planning a Summer Screening Series and a virtual Sound Symposium while providing booths, panels and other participation at industry events and in conjunction with other non-profits," Urban says. "Our latest endeavor is 'CAS Mixer Merch,' our online store. Meanwhile, the CAS 'In Conversation' podcast continues to add episodes highlighting the careers of accomplished and legendary sound mixers, and our CAS Quarterly Magazine continues to produce amazing content." Last year marked the successful launch of the Cinema Audio Society YouTube Channel.
CAS is also proud to partner with the HPA through its advocacy and promotion of sound mixers. "As organizations that are truly designed to be advocates for our communities it behooves us to work together to achieve a greater impact for our initiatives," Urban explains. "Additionally, I encourage all individual professionals to be active in fostering fellowship and support in their field of expertise. As an empowered community we have greater wisdom and strength than the sum of our individual parts."
COVID remains a front-of-mind issue for the industry today. "Maintaining, if not increasing, the level of interaction, communication and respect through distanced or remote working conditions has been paramount," says Urban. "While the technology and remote workflows are still not perfect, the pandemic pushed forward technology and the eagerness to find alternative ways to work."
Sound has dominated Urban's life since childhood so it's no wonder she followed a career path in audio. "I was born with vision problems that couldn't be corrected by surgery until I was five or six years old. So, my formative years taught me to use sound to communicate and navigate the world," she explains. "When I was a pre-teen my brother gifted me a 486 PC-based Cubase system to help with my piano compositions, and my mother, who was an educator herself, found a public arts program for high school students and insisted that I audition. Being accepted into the program laid a huge foundation for me."
At James Madison University in Virginia Urban majored in media arts and design, focusing on audio production and minoring in both music industry and business. She joined a Washington, D.C. postproduction house shortly after graduation and remained in the nation's capital for a dozen years, mostly working on documentaries for Discovery Channel. She moved to Los Angeles eleven years ago where she has been a re-recording mixer for scripted episodic content and feature films.
Urban believes that "diversity and inclusion are at the very heart of what we do. We are, in essence, communicators of individual stories and experiences to mass audiences. We have great power and responsibility as builders of a cultural lexicon to represent different perspectives. What we put into the world makes a difference."
The project that Urban is currently working on is still under wraps, but she promises it will be "awesome and fun and coming your way in August." She recommends checking out two of her recent credits: "Made for Love," which streams on HBO Max, and "Gentefied," which can be seen on Netflix. "Both of these shows offer a unique narrative and broaden the mind," she says.
Although Urban has held many audio positions in her career, she is, at heart, a re-recording mixer. "It is the ideal combination of sound and story that I have been infatuated with since I was young," she declares. "I am allowed to paint with sound and work with incredibly creative people on beautiful narratives. With each new project, I get to experience and explore the world from the perspective of my characters' journeys. I get to communicate their world to our world, which is an incredible experience and honor. The adventures are endless."