Delair Showcases HPA Award-Winning Front Wave Audio Technology at the Indie Screen Theatre in Hollywood, CA
Movie professionals and enthusiasts can now hear and see the benefits of Delair's unique cinema sound system for themselves.
October 28, 2019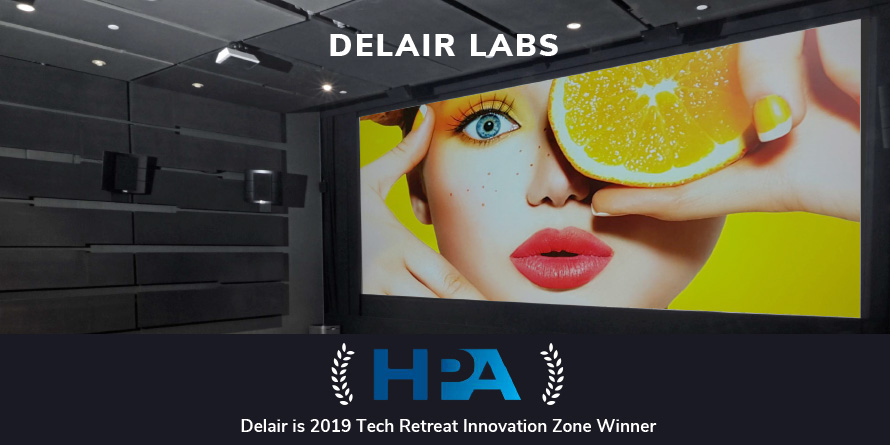 (Hollywood, CA, October 28, 2019)—Delair, a French-American innovator in cinema sound and image, is delighted to announce the opening of its new commercial-grade screening room. Located in the Indie Screen Theatre at 1800 Vine St., Hollywood, CA, the new room is designed to showcase the benefits of Delair's Front Wave Audio (FWA) technology, which garnered a 2019 Innovation Zone Award from the Hollywood Professional Association.
With comfortable seats for up to 30 viewers, the 754-square-foot screening room sports a dark, neutral-gray color scheme with a 25-foot-wide, 2.4:1, non-perforated screen from Severtson Screens using the company's Matte White material with 1.0 gain. Three of Delair's patented front-channel speakers are mounted behind the screen with their unique mid/high-frequency FWA drivers in contact with the screen material. As those drivers vibrate, they cause the screen to vibrate, sending the sound into the room without the distortion endemic to perforated screens. Each FWA driver is accompanied by a woofer that does not touch the screen, and two powered subwoofers are also located behind the screen.
Three Delair supertweeters surround the screen on the left, right, and top center, emitting high frequencies with extremely even dispersion throughout the room. Completing the 15.2.8 immersive speaker layout are twelve Delair Model One surround speakers around the audience and eight Model Two speakers overhead.
All main speakers are powered by a Dolby DMA32301 32-channel power amp providing 300W per channel, while a Dolby CP850 performs all audio processing. A full set of acoustic treatments were already installed by the previous occupant.
The video equipment is equally impressive. In an isolated projection booth, a Christie CP4220 4K DCI projector renders pristine images from a Dolby IMS2000 DCP server and Apple TV 4K.
Created for Indie Screen, a venue-procurement and management company, the new screening room is available for color grading and other post-production work as well as screening events with an elegant adjoining patio and rooftop deck offering a spectacular view of Hollywood.
You can book the screening room at www.indiescreen.co. For more information about Delair, visit www.DelairLabs.com. To schedule a demonstration, contact Delair CMO Pierre Pariente at the phone number and email address above.
###
Contact: Pierre Pariente, CMO of Delair
Phone: +1 (628) 252-8886
Email: pierre.pariente@delairlabs.com