EIZO Introduces New Generation of ColorEdge Monitors with Flagship 27-inch HDR Models for Editing and Postproduction
April 20, 2022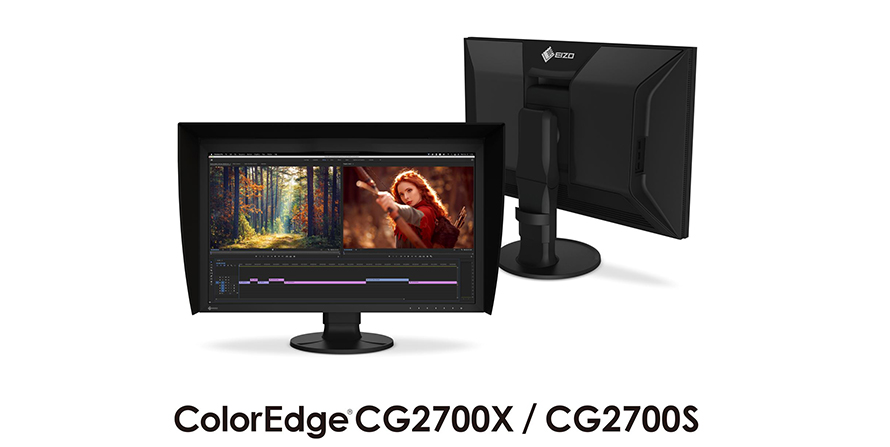 EIZO Inc. has announced the first of a new generation of ColorEdge monitors – the 27-inch CG2700X (3840 x 2160) and CG2700S (2560 x 1440). These flagship models support the HDR workflow and are the first ColorEdge monitors to feature a brand-new cabinet design and built-in network connection via USB Type-C connection.
The ColorEdge CG2700X and CG2700S are made for professionals in video editing, Animation, VFX, 3DCG creation, game development, photography, and other creative fields.
The monitors are equipped with EIZO's award-winning built-in sensor technology and ColorNavigator software. The solution allows the user to set the monitor to calibrate the monitor automatically at designated times, eliminating the need for a third-party calibration device and ensuring that the screen stays accurate over time.
Both monitors support HLG (hybrid log-gamma) and the PQ (perceptual quantization) curves for displaying and editing HDR (high dynamic range) content..
USB Type-C connectivity allows users to display video, transmit USB signals, and supply up to 94 W (CG2700X) or 92 W (CG2700S) of power to a connected device, such as a tablet or laptop computer. Furthermore, the monitors include a built-in ethernet/LAN port for providing a stable network connection to the computer via a USB-C connection.
Additional CG2700S & CG2700X Features
• 98% DCI-P3 gamut coverage
• 10-bit simultaneous display from a 16-bit LUT
• Screen uniformity with patented Digital Uniformity Equalizer (DUE) technology
• 5-year manufacturer's warranty
Availability
The ColorEdge CG2700S will begin shipping in North America from June/July 2022, while the CG2700X will start shipping in late Summer 2022.