EuroHockey Indoor Championships Broadcast with ATEM Constellation 8K
January 26, 2023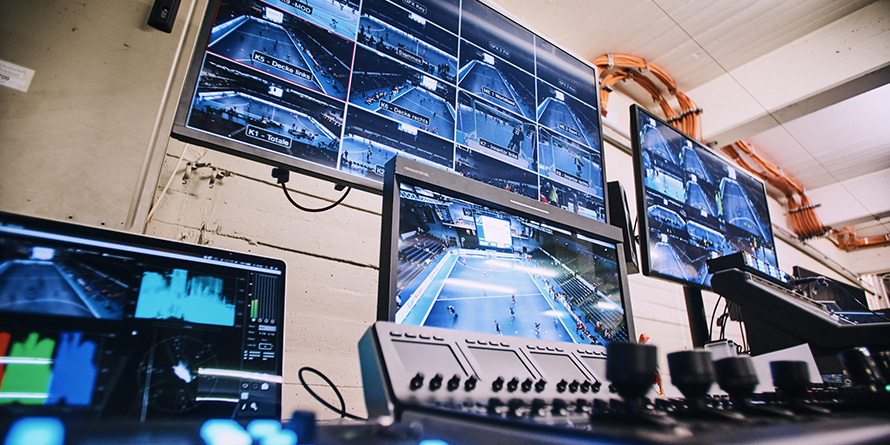 Blackmagic Design has announced that the EuroHockey Indoor Championships relied on an acquisition, control and delivery workflow based on Blackmagic Design hardware for broadcast (Sport1) and live streaming (eurohockeytv.org).
Hamburg's (Germany) Alsterdorfer Sporthalle hosted the biennial event with eight nations competing, including Ukraine, Czech Republic, Netherlands, Turkey, Austria, Switzerland, Belgium and Germany. Delivered on behalf of the Deutsche Hockey Agentur (DHA), Video Data Technik (VDT) supplied all aspects of the OB production services.
Relying on an optical fiber backbone, VDT utilized a mixed package of nine cameras, including three Blackmagic URSA Broadcast G2s with two on remote heads and a third for pitch side interviews. VDT also deployed two Blackmagic Pocket Cinema Camera 6K Pro as goal cameras.
"The different camera types matched well thanks in no small part to the ability to finetune the Blackmagic's colors more precisely than the larger broadcast cameras using an ATEM Camera Control Panel," revealed VDT's Andreas Meyer.
All sources, including the cameras, went through a 72×144 router, with nine camera ISOs then split and routed to an ATEM Constellation 8K live production switcher and vMix Replay system.
"We needed to produce three program feeds, so we based our workflow on an ATEM Constellation 8K with the ATEM 2 M/E Advanced Panel. And because we had both German and English feeds to cut, the switcher's fourth M/E was used to insert English graphics," Meyer noted.
The main production format was 1080p50, which was subsequently converted to 1080i50 for Sport1 and 720p50 for the European Hockey Federation (EHF). A pair of Kiloview encoders provided the EHF stream and, later, for Austria's national broadcaster ORF.
"The ATEM Constellation offers tremendous flexibility. I also love that it outputs MADI, so we can extract audio directly from the SDIs and use it on the DiGiCo console," Meyer explained. "It really is the perfect mixer for big events and OBs when flexibility is essential. Need an additional output? No problem, the ATEM has got you covered."
For on air graphics, the OB relied on CharacterWorks, outputting in 2160p50. Those 4K signals were split into four separate 1080p50 channels using a pair of Teranex Mini 12G-SDI to Quad SDI converters.
"That gave us two fill and key for German and English on air graphics while still keeping things straightforward for the graphics operator," said Meyer.
The main program output was recorded to SSDs using a HyperDeck Studio 4K Pro broadcast deck, with recordings for team analytics captured using an H.264 Pro Recorder real time encoder.