Future Possibilities at the HPA Tech Retreat Supersession
Global Pandemic Era Productions and Vision 2030 Paths Are Explored
February 17, 2021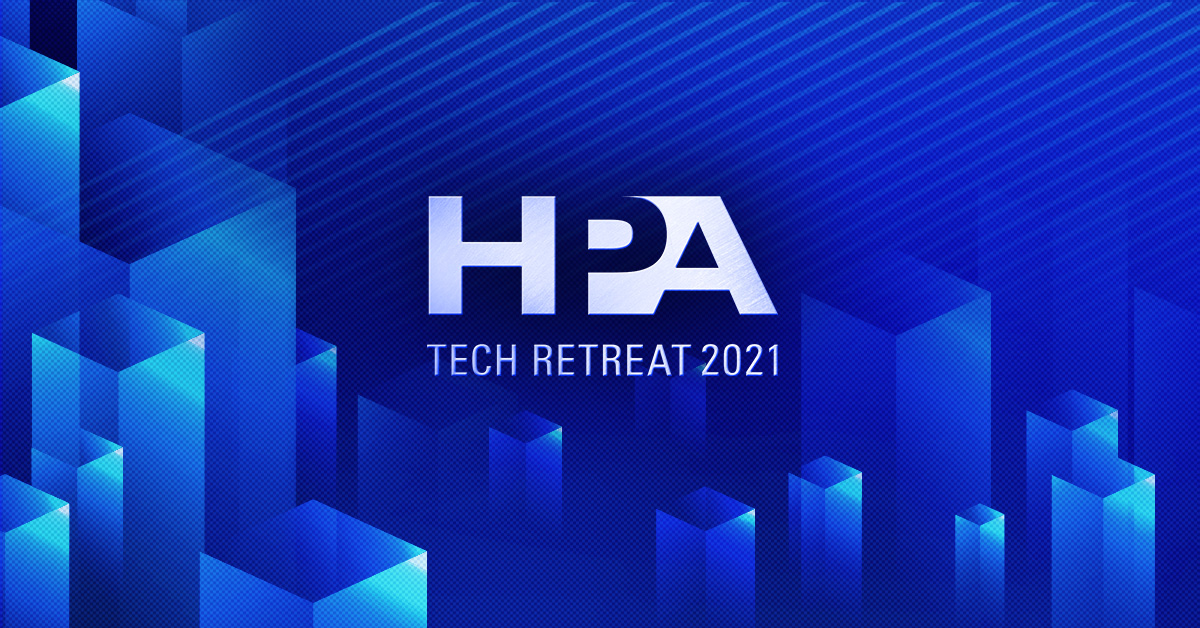 Hollywood Professional Association (HPA) has announced details for its much-anticipated Tech Retreat Supersession, a two-day interactive exploration of the workflows and technology of multiple productions taking place around the globe. The Supersession is set for the final two days of the 2021 HPA Tech Retreat, March 23 and 24, and follows on the success of last year's Supersession which focused on the live production and post of the short film, The Lost Lederhosen. That project was a vivid illustration of the ways that virtual production and remote cloud technologies could be applied to content creation. As with so many Tech Retreat presentations, it was remarkably prescient as the world entered lockdown a month later.
The 2021 Supersession is even more ambitious, pushing to the very edge of what is possible today and what may lie ahead. While it builds on the groundbreaking work of last year, this year's presentation, highlighting productions taking place in multiple cities on four continents, is an order of magnitude more challenging.
Supersession Day 1 "The Found Lederhosen"
March 23, 2021 – 10:00 AM PST – 1:00 PM PST
7 MOVIES, 6 CITIES, 5 AUDIO MIXES, 4 COLOR SPACES, 3 CLOUDS, 2 LIVE TRANSMITTERS, 1 GAME
Under the guiding vision of Joachim "JZ" Zell, the first day of the Supersession is a gargantuan undertaking, a detailed look at productions guided by 200 filmmakers who, in the midst of the pandemic, shot films in London, Dubai, Ulaanbaatar (Mongolia), Mexico City, Brisbane and Hollywood, testing themselves from a health and safety perspective and redefining creative, connected, remote, collaborative, cloud-based workflows. Day 1 takes a real world look at tools, tech, workflows and the artists and technologists who braved both the virus and next gen filmmaking. Like production, the post pathway circled the globe from Hollywood, to Taiwan, to San Francisco, and London as well as  a world-wide pool of visual effects artists contributing their talent and expertise.
Supersession Day 2 "Live from the Cloud – Without a Net"
HPA and MovieLabs present a never before seen or attempted real-time demonstration of production through editorial, VFX, conform, color, sound and delivery using 5G, and public and private hybrid cloud tools, infrastructure and workflows. All with an eye as to where we are on the path to MovieLabs' "2030 Vision."
The Making of the Supersession: Origin Point Documentary Series
The entire journey of the Supersession has been documented in a series of films by the film company Origin Point. The films will premiere during the HPA Tech Retreat and feature filmmakers, technologists and industry visionaries to provide additional context and insights to the Supersession revelations.
Zell said, "At the end of Day 1, attendees will have seen filmmakers, editors, VFX artists, and sound designers from around the world creating, sharing, and finishing projects that illustrate the challenges we are all facing. They pulled them off beautifully, from Ulaanbaatar to Soho to Mexico City and beyond, during a pandemic. These amazing experiences will enable us to explore the many ways that was accomplished. While during 'normal' technology presentations a process is often shown as a straight line from beginning to end, in the Supersession we show how it was really done."
The 2021 HPA Tech Retreat Supersession promises to be historic, said HPA Past President Leon Silverman. He notes, "This will be one of those demonstrations that will be talked about for years to come. It will not only be an opportunity to deeply understand where our industry is on our journey to the cloud, but also what will be required to realize MovieLabs' 2030 Vision of the Future of Media Creation as outlined in the now famous whitepaper issued in the fall of 2019. I do think that our Supersession and the 2021 Tech Retreat itself will be one of those must-attend events in order to best understand our own roles as the industry makes this significant technology transformation."
Seth Hallen, president of HPA, noted, "The HPA Tech Retreat always delivers, and continually answers the call for our industry to be ready, technically and creatively. The challenging days we're setting up for the Supersession are exactly what the Tech Retreat is all about. Our industry progresses because of the collaborative, experimental, and even controversial steps that must be taken. The complicated nature of what we do, made even more dramatic in the pandemic, clearly illustrates that our need to experience these discussions collaboratively is more important than ever." He concludes, "We are making sure that the information exchanged, debated and explored will be unlike any other event this year or any other Tech Retreat we have ever held. These experiments are extremely bold, but are in keeping with what has made the HPA Tech Retreat so important to the industry."
The HPA Tech Retreat kicks off on March 15th with the Mark Schubin-curated main conference program. In addition to the conference, dozens of roundtable discussions with industry experts are scheduled, as well as a technology fueled Innovation Zone offering education, product demonstration, and consultation. Networking to fuel connection, collaboration, and conversations is, as always, integral to the Tech Retreat. The schedule for the entire event is available online, with daily updates.
Registration is now open for the 2021 HPA Tech Retreat. Sponsors include diamond title sponsor Adobe; cocktail sponsor Equinix; registration sponsor Sohonet; gold sponsors Frame.io, GB Labs, Mo-Sys Engineering, NetApp, Ownzones, Signiant, Vcinity, and Wasabi; event sponsors Evercast and Keycode Media; and silver sponsors Avid, Dalet, Dell Technologies, Unreal Engine, Blackmagic Design, and Zeiss. For more information, contact Joyce Cataldo at jcataldo@hpaonline.com. The opportunity to sponsor at the Gold level has sold out but other levels may be available.
The unique historical moment promises to make the 2021 HPA Tech Retreat the most consequential in its history. For more information about the HPA Tech Retreat, visit www.hpatechretreat.com.