HPA Tech Retreat 2024 – TR-X to Focus on Extreme Production
October 30, 2023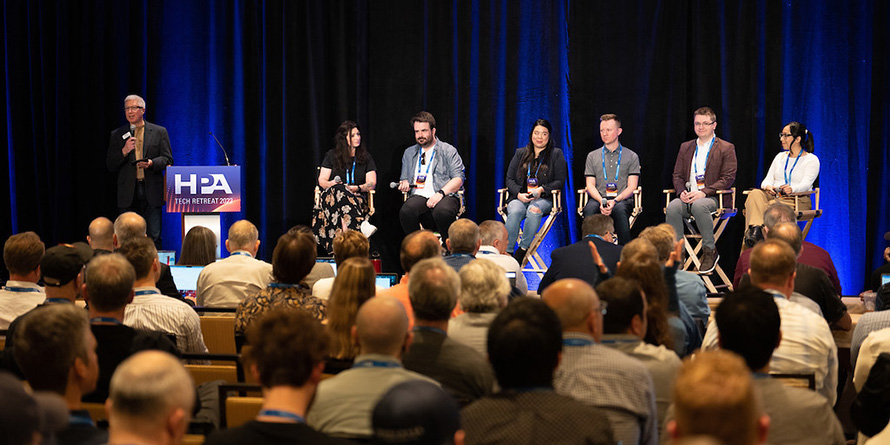 By Debra Kaufman
Earlier this year, HPA board member Mark Chiolis, Mobile TV Group director of business development, heard a story of an extreme sports production that piqued his interest. "Uncle Toad's was shooting the world's top snowboarders in the remote backcountry of the Canadian Rockies for the Natural Selection snowboarding competition," he says. Uncle Toad's creative director/senior producer, Chris Steblay, described how the team had to helicopter everyone to the production site — dangerous terrain for snowboarders and crew. There, in sometimes harsh weather, the production team used live racing drone chase cameras and wireless technologies to document "every second" of the snowboarders' aerial feats.
That led Chiolis to pursue Extreme Production as the theme of this year's TR-X (Tech Retreat Extra). Chiolis, who, with HPA board member Craig German, Crafty Apes VFX chief executive, has spearheaded this HPA Tech Retreat event since 2018, noted that Uncle Toad's production was "an inspiration to dive deeply into what we mean when we say, 'extreme production'." TR-X 2024, Chiolis says, will feature "multiple examples that represent a wide range of extreme productions."
The opening keynote will be IMAX Post/DKP founders David Keighley and Patricia Keighley, talking about their crucial work on director Christopher Nolan's 70mm Oppenheimer. Chiolis notes that, among other details, IMAX had to create expanded reels "because no one had ever done a three-hour 70mm projection before." "David and Patricia will talk about everything they went through with [Christopher] Nolan to get everything captured, produced, distributed and exhibited," he says. "So many people have wanted to see the movie in IMAX and, by the time we're at TR-X, global box office will likely reach $1 billion."
Next on the agenda is a look at The Grand Tour, a global motoring program streaming on Prime Video since 2016, presented by Jeremy Clarkson, Richard Hammond, James May, produced by Andy Wilman and directed by Phil Churchward. An exceptionally challenging show to make, The Grand Tour includes two movie length specials as well as the making of pieces. With far flung locations in difficult to shoot countries, the storylines involve outlandish and extravagant stunts. The production demands the cinematography remain at an extremely high standard while constantly on the move with no script to rely upon. Amazon MGM Studios Director and WW Head of Unscripted Production, John Holmes, will appear at TR-X where he will moderate a conversation with Churchward and Wilman, joining by satellite from the U.K, who will discuss the challenges of bringing these productions together.
At last year's TR-X, Chiolis and German organized a panel of Young Entertainment Professionals (YEPs) to hear about their nascent careers and expectations for their futures in the media/entertainment industry. "They're the next generation of our industry," says Chiolis. "One of the takeaways from last year was that there are numerous YEPs at the Retreat and we encourage attendees to introduce themselves to them. You could be a potential mentor now – and one day, they may be hiring you." For TR-X 2024, YEP Eric Mahoney, who works at Paramount, and YEP alumna Nikki Jee are co-producing and moderating a panel on some of the extreme productions that this group of YEPs is already working on.
HPA's TRX breaks even its own exciting boundaries with a look at the immersive art of Refik Anadol, says Chiolis. Anadol creates what he calls "AI data paintings and sculptures. In these creations, which combine architecture, art and technology, Anadol uses datasets to "paint" unique multi-sensory immersive environments. The Arca Museum in Denmark just closed an exhibit of Anadol's "Nature's Dream" display. "He's doing data-driven, machine-learning algorithms to create abstract dream-like environments displayed on screens," Chiolis says. "The work he does to get there is, in my opinion, extreme, and we're going to show the behind-the-scenes of what it takes to get it completed and displayed. A moderated case study will include Anadol, joining by video, as well as Google Cloud's global lead for the entertainment industry Buzz Hayes and Gunpowder owner Tom Taylor, who worked with the artist. Anadol's work is also scheduled to be displayed throughout the Tech Retreat.
In another session, independent producer Jackee Chang will describe the perils of getting a small crew and gear into (and out of) Vietnam to cover the Russian gang involvement in human trafficking. Chiolis noted she will not only go into the details of this extreme production but also talk about what she could do differently today.
Sports Video Group chief editor Jason Dachman will be moderating a panel on extreme sports productions, says Chiolis. "And, we're not done. We expect to add two more slots will in the next month.
This is Chiolis' sixth year producing HPA Tech Retreat's TR-X. "HPA is an all-volunteer organization and everyone on the board is doing something," he says. "It was my choice to produce TR-X and I very much enjoy it." Even so, he foresees the day that he will hand the baton to a younger group of HPA board members. "You'll see new faces," he promises.
Registration to the 2024 HPA Tech Retreat is open now to members, and the general public soon at HPATechRetreat.com. HPA Tech Retreat will take place from February 18-22 in Rancho Mirage, California. The TR-X session will be Monday, February 19, from 1:00-5:45 pm PT.