Sphere: The Future of Immersive Entertainment Wins Prestigious Judges Award for Creativity and Innovation
October 30, 2023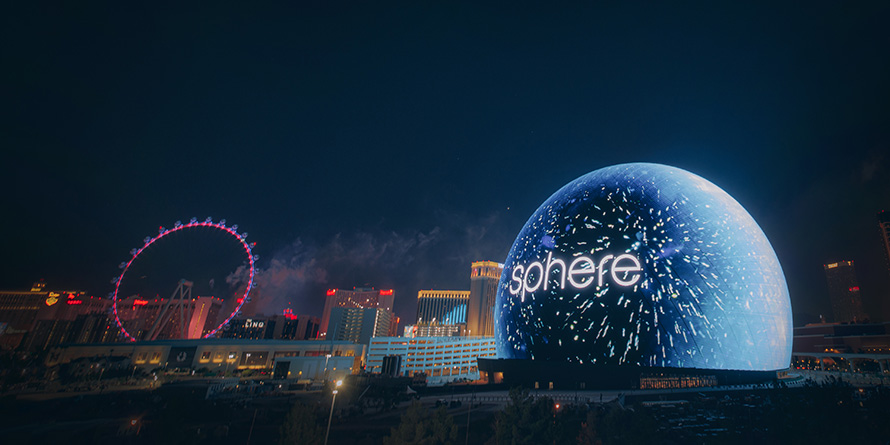 Sphere, a groundbreaking next-generation entertainment medium in Las Vegas, has been honored with the prestigious Judges Award for Creativity and Innovation at the HPA Awards for 2023. The award recognizes Sphere's revolutionary technology and visionary design, which have redefined the entertainment experience and storytelling, taking audiences to new heights of immersion and engagement.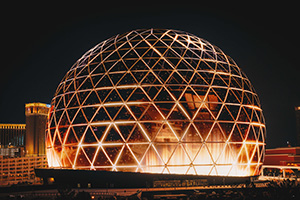 Sphere is more than just a venue; it represents a quantum leap in the world of entertainment. It seamlessly integrates cutting-edge technology to create unparalleled multi-sensory immersive experiences, encompassing film, concerts, and marquee events. At the heart of this innovation is Sphere Studios, an in-house immersive content studio, which harnesses proprietary and cutting-edge technology and tools to craft these exclusive experiences.
With its impressive 366 feet in height and 516 feet in width, Sphere stands as the world's largest spherical structure, boasting 17,600 seats to accommodate audiences at an unprecedented scale. Sphere is powered by a range of bespoke technologies that engage the senses on multiple levels. The interior LED display, with an astonishing resolution of 16K x 16K, constitutes the world's highest resolution LED screen. This display envelops the audience, offering a fully immersive visual environment.
The creation of stunning visuals for this one-of-a-kind canvas gave rise to Big Sky, an innovative ultra-high-resolution camera system and custom content creation tool developed by Sphere Studios, capable of capturing incredibly detailed, large-format images. To complete the immersive experience, Sphere features its cutting-edge sound system, Sphere Immersive Sound, powered by HOLOPLOT, which ranks as the world's most advanced concert-grade audio system. This system ensures crystal-clear, personalized sound within Sphere's unique curved design.
Sphere's innovation extends to its exterior, known as the Exosphere, which boasts 580,000 square feet of fully programmable LED panels. These panels have the ability to display a wide array of visuals, making Sphere a prominent landmark on the Las Vegas skyline, celebrated worldwide.
Sphere's journey began with the residency of the iconic band U2, who presented "U2:UV Achtung Baby Live At Sphere," a captivating fusion of live performance and immersive visual elements. Darren Aronofsky's "Postcard from Earth," the first film ever created for Sphere, made its debut as part of The Sphere Experience, a two-part multisensory journey that exemplifies an inventive approach to content creation and storytelling.
The Judges Award for Creativity and Innovation is a rare accolade, not awarded annually but presented to groundbreaking work, as determined by the jury. This year's esteemed jury, co-chaired by Carolyn Giardina and Joachim Zell, comprised notable members Paul Debevec, Jay Holben, Joanne Kim, and Karen Raz.
In their statement, the jury emphasized Sphere's pioneering status, celebrating the venue and its associated production technologies and workflows. Sphere introduces a thrilling new era of immersive entertainment and shared audience experiences. As the world's largest spherical structure, the venue, equipped with a 580,000 square foot Exosphere, a 16K interior LED display, and an innovative sound system, required the development of new technology and workflows to create and display content tailored to Sphere's unique capabilities. Notably, Sphere's debut U2 concert and The Sphere Experience featuring Darren Aronofsky's "Postcard from Earth" exemplify its creative potential.
David Dibble, CEO of MSG Ventures, a division of Sphere Entertainment dedicated to advancing technologies for live entertainment, expressed his excitement at the recognition. He stated, "Every aspect of Sphere, from the technology we created to capture content to how we tell stories in this new, multi-sensory venue, is a giant leap forward, and we are excited by the extraordinary possibilities this new medium offers. The entire Sphere team is honored to accept this award from HPA, and we look forward to continuing to push our industry forward through the innovative work we are doing at Sphere."
Past recipients of the HPA Award for Creativity and Innovation include Peter Jackson for "They Shall Not Grow Old," NASA and AWS for the first live broadcast from space, and the Together at Home broadcast during the pandemic, demonstrating the award's association with groundbreaking work in media and entertainment.