The Adam Carolla Show Goes Live with End to End Blackmagic Design Workflow
May 25, 2023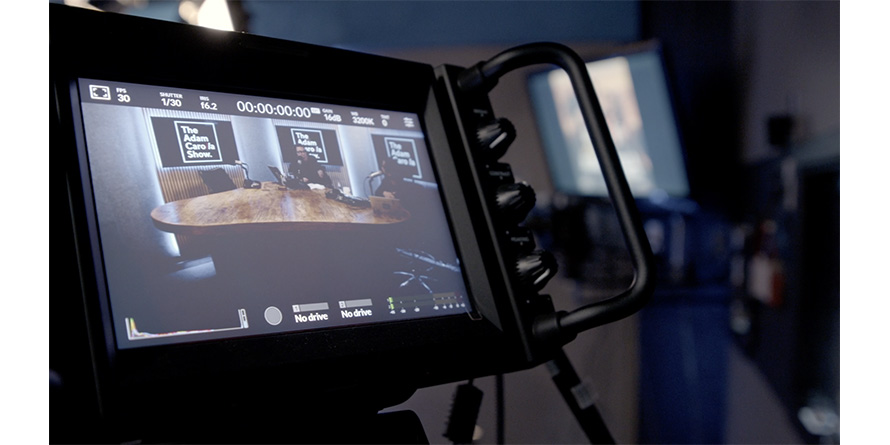 Blackmagic Design announced that the world's top daily downloaded podcast, "The Adam Carolla Show," is using a full Blackmagic Design workflow. The show, along with three other Carolla podcasts and numerous remote live comedy events, is using Blackmagic Studio Camera 4K Pros and Blackmagic Pocket Cinema Camera 6K Pro digital film cameras, a variety of ATEM live production switchers and DaVinci Resolve Studio for post production to complete more than 15 hours of finished material per week.
"The Adam Carolla Show," a five day a week comedy and talk show podcast hosted by comedian, radio personality and podcaster Adam Carolla, set the record for the most downloaded podcast in the world and is one of a number of popular podcasts created by the Carolla Digital podcast network. The network's other shows, including the award winning "The Dr. Drew Podcast," "Reasonable Doubt" and "The Watercooler," have been downloaded and watched billions of times.
The growth of Carolla Digital quickly outpaced the capabilities of the production and post studios originally built several years ago by the network. Executive Producer and Co host Chris Laxamana was faced with the challenge of creating high quality weekly programming that included live streaming, multiple hosts, remote guests and live comedy events. He also had to build a workflow that could support an ever increasing number of social media videos in different formats.
"For the podcasts alone, we shoot about 15 hours per week. When we tour, we'll typically do about eight to nine hours a weekend. The Blackmagic workflow has given us the ultimate benefit of having superior quality mixed with reliability. Everything in the Blackmagic ecosystem works so well together that we get to focus more on the creative content of our show," Laxamana explained.
The studio workflow includes four Blackmagic Studio Camera 4K Pros feeding into an ATEM 2 M/E Constellation HD and ATEM 1 M/E Advanced Panel. DaVinci Resolve Studio editing, grading, visual effects (VFX) and audio post production software is used for editing and color correction and has allowed Laxamana's team to be able to quickly create social media videos from the live shows.
Laxamana explained: "The fact that we can go back and edit our live cuts more precisely within Resolve is unheard of. It's a game changer. Now we can create custom clips for social media and promotions. And the ATEM Constellation is our hub. We love using it as our control center for live switching and clips. We use it to incorporate graphics into our production as well as to cut to guests that are joining us remotely. Everything is perfectly customizable too, from the graphics to the audio controls. It's the best we've ever used."
The spontaneity of "The Adam Carolla Show" is one of its biggest draws but also is a challenge to plan for in terms of creating a workflow. The Blackmagic Studio Camera 4K Pros fit Laxamana's need to be able to catch any action. He added: "We like to have wide and one shot angles for most shows, but we're ready for anything with the Studio Cameras. You never know what's going to happen. Sometimes Adam likes to bust out the focus pads and run drills with boxers and MMA fighters. We have musical performances too. Since the Studio Cameras take MFT lenses, we have plenty of options.
"Also, the quality of footage is superior. Personally, I love the LCDs on the cameras. They're so big and vibrant. The tally lights are great too. Along with the Pocket cam, we love how these cameras work with the ATEM and their ease of use."
UltraStudio 4K Mini, UltraStudio Monitor 3G and UltraStudio Recorder 3G capture and playback devices are used for monitoring the output from DaVinci Resolve Studio and managing live Zoom call feeds from remote guests. Smart Videohub 20×20 routers, SmartScope Duo 4K monitors, HyperDeck Shuttle HD and HyperDeck Studio HD Pro broadcast recorders and a variety of Mini Converters and Micro Converters are also used.
For remote productions, which sometimes include a crew of up to 10, Laxamana uses ATEM Mini Extreme ISO, a number of Pocket Cinema Camera 6K Pros and Blackmagic Video Assist 5" 3G and Blackmagic Video Assist 7" 12G recorder/monitors. Footage is saved as DaVinci Resolve files in the ATEM Mini Extreme ISO.
"I love that we can record both the live cuts and the isolated footage with the ATEM Mini Extreme ISO. These remote shows are edited a little more, so it's incredible to have the option of tweaking some of the cuts when we drop it into Resolve. And the portability of the switcher and Pocket cameras make it easy to set up a station in some of the tight spaces within comedy clubs," Laxamana said.
"We've had countless comments on YouTube and social media about the higher production quality of our shows since switching over to Blackmagic Design. It's funny because using these new tools has actually made production easier for us too. Everybody wins! As for Adam, he's over the moon. These are exactly what we've been wanting in the podcast space," Laxamana finished.