Wasabi Technologies Adds Signiant Jet File Acceleration Services To All Storage Regions Globally
Media and entertainment companies worldwide now benefit from lower costs and faster speeds to enable next-gen content delivery
August 24, 2022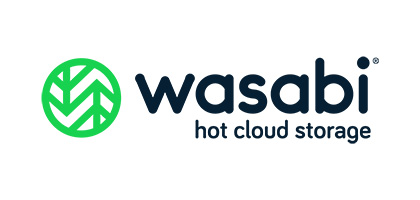 Wasabi Technologies, the hot cloud storage company, has announced that its joint solution with Signiant, the leader in media and entertainment file transfer, is now available in all thirteen Wasabi storage regions globally. By leveraging the power of Wasabi hot cloud storage and Signiant intelligent file transfer, users can rapidly ingest content files of any size into low-cost cloud storage and distribute content out to stakeholders located anywhere in the world with the least delay, complete reliability and simple, transparent pricing.
As media workflows have transformed post-COVID with the rise of remote production teams and even larger file sizes and data being generated, the industry requires an infrastructure that can help companies thrive and innovate their media delivery now and for the future. However traditional providers often come with exorbitant or complex pricing and less effective performance.
The Wasabi-Signiant solution is purpose-built for the media and entertainment (M&E) industry and combines the best of Wasabi hot cloud storage and Signiant Jet to take on the industry's biggest roadblocks to cloud adoption. Wasabi offers a hot cloud storage service that is 1/5th the cost of Amazon S3, with no fees for egress or API requests and no vendor lock-in. With Wasabi, M&E organizations can affordably store all their content in the cloud, from raw footage to finished product, with everything immediately accessible without friction or added expense. Meanwhile,  Signiant's patented file acceleration technology practically eliminates latency, taking advantage of all available bandwidth without restrictions.
"The M&E industry is going through another dramatic evolution, but too many of the new cloud workflow solutions are simply cost-prohibitive which discourages the adoption of cloud technologies that can speed production timelines," said Whit Jackson, Wasabi Technologies Vice President of Media & Entertainment. "Wasabi has strategically enhanced our service offerings to support the M&E industry, and this partnership with Signiant packages the most efficient file transfer solution with the unmatched pricing and performance of Wasabi hot cloud storage for a new – and better – way for the industry to manage its content. By making the Wasabi-Signiant solution available on a global scale, M&E companies no longer have to settle for services that can't keep up with today's pace of production or derail their budgets."
Try the Wasabi-Signiant Solution for 90 days
Wasabi customers can now enjoy a 90 day free trial of Signiant file acceleration services and immediately start maximizing their throughput with speeds of up to 100x that of traditional transfers. To start your trial, visit wasabi.com/signiant .
For more information on Wasabi solutions for M&E, visit https://wasabi.com/media-and-entertainment/.
About Wasabi Technologies
Wasabi provides simple, predictable and affordable hot cloud storage for businesses all over the world. It enables organizations to store and instantly access an unlimited amount of data at 1/5th the price of the competition with no complex tiers or unpredictable egress fees. Trusted by tens of thousands of customers worldwide, Wasabi has been recognized as one of technology's fastest-growing and most visionary companies. Created by Carbonite co-founders and cloud storage pioneers David Friend and Jeff Flowers, Wasabi has secured nearly $275 million in funding to date and is a privately held company based in Boston. Wasabi is a Proud Partner of the Boston Red Sox, and the Official Cloud Storage Partner of Liverpool Football Club and the Boston Bruins.
Follow and connect with Wasabi on Twitter, Facebook, Instagram, and The Bucket.