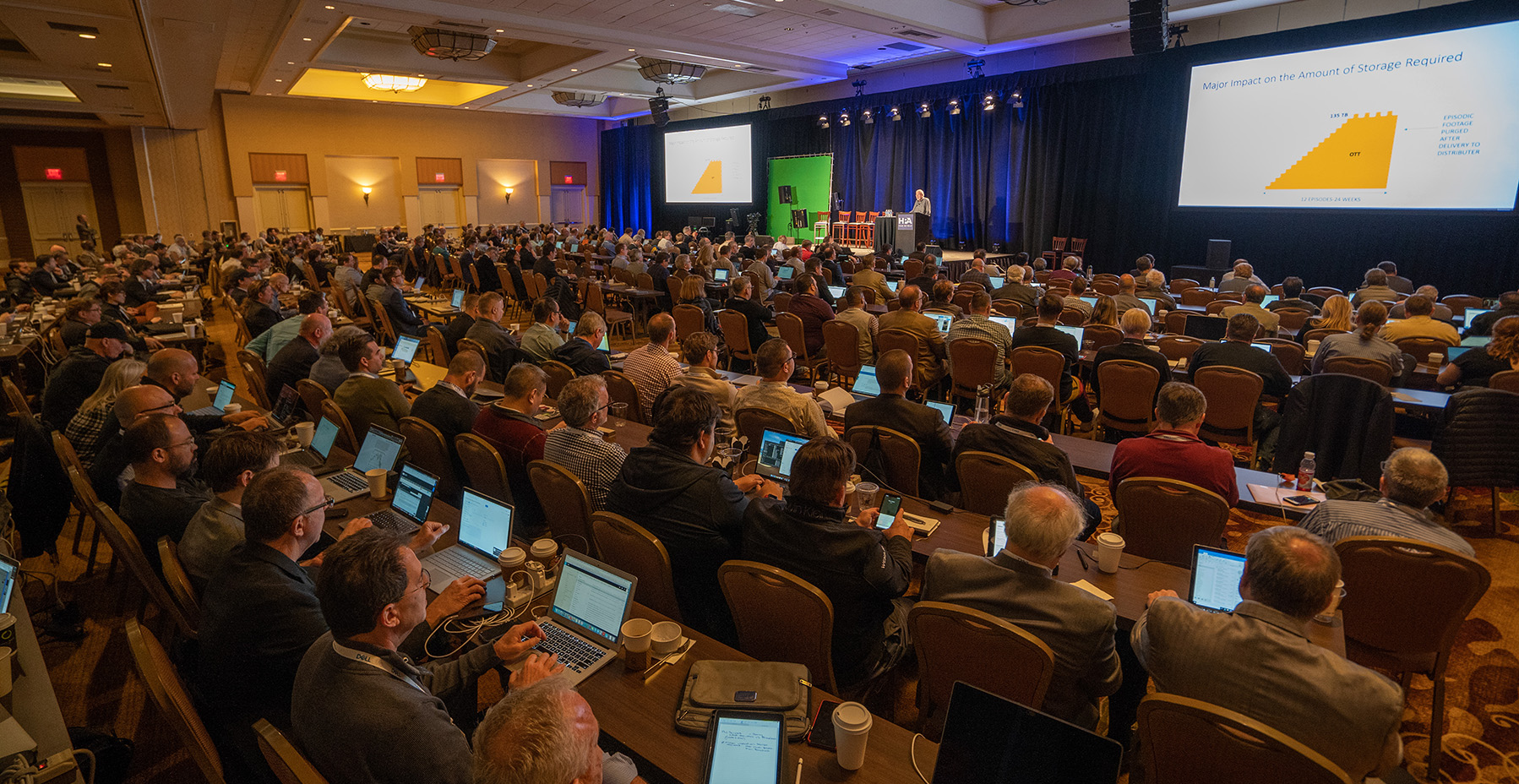 About the HPA Tech Retreat: Back in Person!
Why is the HPA Tech Retreat the most important event of the year?
Bringing together a world-class roster of leaders in engineering, technology, creativity and business to explore and experience the most compelling topics around the creation, management, and dissemination of content, the HPA Tech Retreat is unique among tech events. Ideas are rigorously explored and debated – not just during onstage presentations, but continuously throughout the event, from breakfast roundtables through to nightcaps.
The Tech Retreat depends on participants turning away from their day-to-day routines to engage with the brightest minds in the industry. This kind of focused, and authentic discussion between experts happens nowhere else.
Who Will Be There?
Participants have included Oscar winners, studio technology chiefs, NASA scientists, and executives from the most compelling technology hubs.  Attendees are there to engage completely with forward-looking trends and technologies of the content creation ecosystem while tackling issues of the present from fresh perspectives. In the past, Tech Retreat audience and presenters have included representatives from the following companies:
ABC Studios
ABC Television Group
Academy of Motion Picture Arts and Sciences
AJA Video Systems
Alpha Dogs, Inc.
ALT Systems
Amazon
AMPAS
Apple
ARRI
Avid
BluFocus Inc
Brooklyn College
Canon USA Inc
CineCert Inc.
Cinnafilm Inc.
Cobalt Digital
Colorfront
Company 3
CUNY TV
Dell EMC
Deluxe
Department of Defense
Digital Cinema Society
Discovery
Disney
Diversified
Dolby Laboratories
Eluvio
Entertainment Technology Center at USC
Epic Games
EVL/UIC
Exchange Communications
Fancy Film
FotoKem
Fox Corporation
Fox Networks
GrayMeta
HBO
HDVideoPro
IMAGICA Lab.Inc.
InterDigital
Joe Bogacz Consulting
Klein Media, LLC
Legendary Pictures
Masstech Innovations Inc
Media & Entertainment
MESA
Mobile TV Group
Motion Picture Soultions
NAGRA
NBCUniversal
Netflix
Nice Shoes LLC
Paramount Pictures
Paramount Studios
PBS
Picture Shop
Piksel
Pixar Animation Studios
postPerspective
RED Digital Cinema
RheinMain University of Applied Sciences
Riedel Communications
Rohde & Schwarz
Ross Video
SDI Media
SDVI Corporation
Sinclair Broadcast Group
Sohonet
Sony
Sony Pictures Television
Sound & Communications
Source Digital, Inc.
Technicolor
TechXMedia
Telestream
The Telos Alliance
The Walt Disney Studios
TV Technology
United Nations
Universal Pictures
VIZN
WGBH – FRONTLINE
Xperi
Xytech
YouTube Originals
ZEISS Cine Lenses
---
Join us as we return to Palm Springs in person!
Registration is OPEN for HPA Members!

---
How We're Keeping Our Community Safe
Bringing the Tech Retreat back live to Palm Springs was a carefully considered decision. In compliance with governmental guidelines and with proper protocols in place, we're thrilled to be able to safely provide that incredible Tech Retreat experience.
Palm Springs' vaccination rate has been consistently among the top in the state. Health and safety measures in place at the 2022 HPA Tech Retreat include:
Proof of vaccination required for all participants
Masking indoors when not eating or drinking
Outdoor sessions, meals and breaks when possible
State of the art HVAC
Covid Compliance Officers on site
Sanitizing stations throughout venue
We continue to monitor the COVID situation and public health recommendations closely and will adjust our protocols to reflect the most up-to-date thinking. Please do not hesitate to contact us at hpa@hpaonline.com with any health related questions or concerns.
---
BOLD CONVERSATIONS
Networking
The who's who of the industry gather to connect, collaborate and shape the future of media and entertainment. Don't miss this unique opportunity to get in front of top level decision makers without distractions. No mute buttons here!
Breakfast Roundtables
Pull up a chair with a handful of thought leaders and hear from a subject matter expert while you enjoy your parfait. Ask questions, argue, learn, and enjoy. Bon Appetit with a side of insight.